New Horizon Brittanys - Connecticut American Brittany Breeders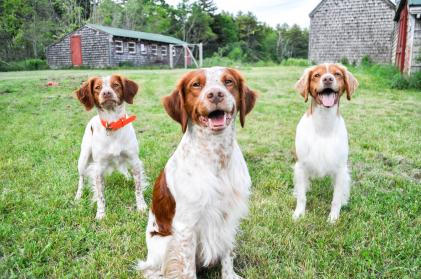 About New Horizon Brittanys
We are a small Brittany breeder located in northeast Connecticut focusing on breeding top quality dogs in instinct, temperament, type and structure. All the dogs used in our breeding program are health tested (OFA, CERF) before being bred, and are proven in competition.
Generally we breed for both a walking hunting dog and gundog range in our dogs, as we focus on a dog who can do it all in the show ring and the field. We title our dogs in the show ring primarily and hunt them for our personal use in the fall. The majority of our breeding go to hunting homes.
We raise and care for our dogs in the home, no kennels. The Brittany was bred as a close companion and are happiest when part of the family. We are open to visits to meet the pack and see them work in the field if you would like. The only exceptions are when we have neo-natal puppies, then visits are restricted to ensure the health of newborns.
Stud service available out of CH Horizon's Time Warp (OFA Good) and GCH Horizon's I Put A Spell On You (OFA Good) to approved bitches.
Breeding beautiful dogs with natural instinct and loving temperaments
Hunting Dog Breeds Raised
American Brittany
Additional Services
Stud Services
Breeder Contact Info
Testimonials (5)
Submitted by: Nikki Marvel & Bill Dube on Feb 20, 2015
When we first started on the mission to find a Brittany for our large and very active family, we had no idea where to start. We found a few websites of breeders - but one in particular kept our attention, since it was chock full of great information on the breed in general. We started asking around, and New Horizons came with the highest recommendations; the same website we kept going back to. We filled out a lengthy application, and shortly thereafter we got our first phone call from Lisa. She was not only full of information, but she also took the time to try and "talk us out of the breed" - just to make sure we really knew what we were getting into. After the written application and several phone interviews, we received notification that we passed all of our interviews, and that the litter had a puppy for us! It was an amazing day. 8 weeks later we not only gained a wonderful little ball of furry energy - but were also welcomed into the Horizons family, and that is exactly what it is, a family. Not only have we forged a close relationship with Lisa, who is always there to answer questions, guide us through Brittany ownership, and even encouraging us to try both hunt training/trials and confirmation shows (and always being there to teach, help and laugh with us too), we have also forged relationships with other Horizon Brittany Owners, all of which we are thankful for. Lisa is a rare find that not only has a passion for the breed, but also a talent for pairing her Brittanys with the perfect families. We are forever grateful we found her as our breeder...
Submitted by: Jean Miller on Jan 27, 2015
I did a lot of research on the breed and on the breeders before I chose Lisa, or I should say she chose me! As Scott mentioned in his testimonial, Lisa does a thorough job both of telling you about the breed and getting you as a match. Lisa is EXTREMELY knowledgeable about the breed and its bloodlines and all her breedings are carefully calculated to produce biddable, beautiful hunting dogs. One measure of satisfaction is repeat customers; I have two and I know of two other owners who came back for more, and that is with the four litters that she has bred so far! My first dog is already a show champion and both have their JH, they have natural drive for hunting. At home they are sweet pets, in the field they are driven! It is a privilege to get one of her pups, and you could not ask for a more supportive breeder, always available to answer questions and help you with whatever you need. She usually has a waiting list, so don't wait to sign up if you want one of her pups!
Submitted by: Jason Scholten on Jan 27, 2015
I was just looking for a good hunting companion and got oh so much more. Lisa has ushered us head first into this crazy world of Brittany's and been there for us every step of the way. If not for Lisa we may not have realized Wendy's full potential. She has her show championship and we are working on grand points now. When Lisa says you buy a breeder and get a dog she is not lying.
Submitted by: Bill & Sue Callahan on Jan 27, 2015
We are incredibly pleased with and highly recommend New Horizon Brittany's and Lisa Tailby. Our Lilly came to us as a puppy with natural instincts and a very pleasant disposition. She has been extremely easy to train, is perfectly healthy and a wonderful addition to our family. Lisa is quite passionate about what she does and that shows in her dogs!
Submitted by: Scott on Mar 27, 2014
Buying a gundog is kind of like buying a good truck. There are countless numbers to choose from but all you are looking for is something that preforms as advertised. You want something that is dependable, works hard, can go anywhere, and something that doesn't have to spend all its time in the shop. Furthermore, you don't know if it is a lemon until you use it. When I purchased my dog from New Horizon Brittany's I got what was advertised! Nothing that I have done training wise can overshadow the exceptional breeding that resulted in my amazing dog! He is loyal, trustworthy, dependable, and overall a joy to be around. With limited training he excels in the field both on wild birds and trials. In the show ring…well, he is a show stopper! It's often been said to brag about your dog AFTER the hunt. I'd brag about New Horizon Brittany's BEFORE! Lisa is always there for you and your dog and she CARES! Consider yourself blessed if you ever get the privilege of owning one of these dogs!
Submit your testimonial