Love Those Brittanys' - Colorado American Brittany Breeders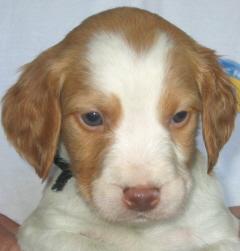 About Love Those Brittanys'
Love Those Brittanys' - Colorado AKC Brittany Puppies
Excellent Hunters! Great Pets!
Great Hunting Instincts - Pointing, Retrieving, Swimming
Loyal, Affectionate, Obedient, Pleasant Disposition
Located - 60 miles SE of Denver CO,
60 miles NE of Colorado Springs
Call 303-377-1361
Email stanmanshell@aol.com
Hunting Dog Breeds Raised
American Brittany
Additional Services
Hunting, Training
Breeder Contact Info
Testimonials (5)
Submitted by: T.J. on Feb 24, 2012
I bought a brittany from Stan nearly 7 years ago. It is by far the best looking brittany I've EVER seen (I get compliments on him all the time). Brittany's are great dogs but some are kind of ugly in my opinion. Stan's dogs are beautiful. Not only is he a great looking dog but he was easy to train, very intelligent, excellent hunter, and great companion. He's the total package. Thanks for the great dog Stan!
Submitted by: Alex on Mar 16, 2011
I bought a Brittany ("Small Saddle" - now named "Charlie") in the Spring of 2006. He's an absolute terrific pet and a great hunter too. If you think there's no difference between breeders, think again. Charlie was very easy to potty train (3 or 4 days!) and had (and still does) an excellent disposition. We got another female Brittany a year later from another breeder whom I won't name and we had much more trouble potty training and training as a whole - we really had to bring up her confidence. Charlie has been confident and easy to please from the day we got him. This now shines through in his adult life.
Submitted by: Alex on Mar 16, 2011
One more comment. I feel so strongly about Stan's dogs that you, stranger on the internet :), can call me for a reference. Three zero three, six four one, eight three seven zero.
-Alex
Submitted by: Mindy West on Nov 10, 2008
We bought our Brittany 2 years ago at the age of 5 months. He is a wonderful pet, great with our grand children and very loyal. Even raised as a pet he has great hunting instinct. He is very proud to tree a squirrel and bring grouse out of the brush. Stan is great to work with.
Submitted by: C BELL on Jul 09, 2008
PURCHASED A 8 WEEK OLD FEMALE BRITTANY FROM STAN ABOUT 4 WEEKS AGO AND WE ARE VERY PLEASED WITH OUR DOG AND THE EXPERIENCE DEALING WITH STAN WAS GREAT. I WOULD HIGHLY RECOMMEND STAN'S DOGS TO ANYONE. STOCKY, ROBUST, ENERGETIC, SMART AND VERY FRIENDLY. CAN'T SAY ENOUGH ABOUT THE PUP. SHE'S GOING TOBE ALOT OF FUN.
Submit your testimonial