Bellvue Acres - Colorado Labrador Retriever Breeders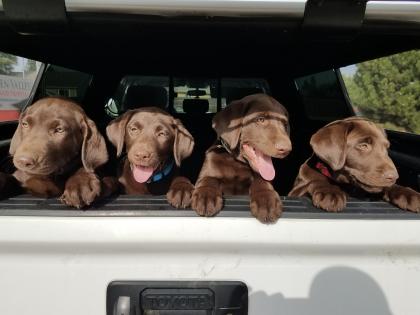 About Bellvue Acres
We have the dam, an AKC female chocolate Labrador Retriever purchased from a Willoughby Kennels. Due to her exceptional temperament and train-ability, we decided to breed her with Stryker from Bear Creek Breeders (http://www.bclabradors.com/about.html) to progress the breeding line of excellent hunting dogs that are equally suited for families as the field.

7/30/19 update: First litter is progressing very well, no health issues. Mother is slowly weaning, but this is not yet complete. First vet check up on the puppies is later this week.

8/19/19 update: Litter is healthy and starting to move on to homes. Second vaccination is on August 24. Deworming has progressed throughout the whelp & weaning period.

Hunting Dog Breeds Raised
Labrador Retriever
Breeder Contact Info
Puppies for sale
Our Pedigrees
Testimonials (0)