North 40 Griffons - Colorado Wirehaired Pointing Griffon Breeders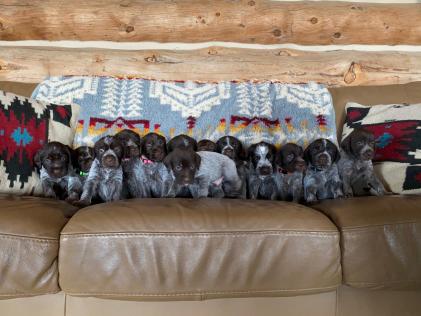 About North 40 Griffons
Here at North 40 our Griffons are Sawyer, Huckleberry, and Finnegan! Sawyer is my first Griff and had a handful of litters before being retired from breeding at age 6 after her final litter (13 pups!) in the Spring of 2020. Huck and Finn are sisters out of Illinois, with hunting parents (Sire/Dam as well as Paternal grandparents all have OFA Hip clearances). Huck and Finn both have OFA Hip and Heart clearances as well! Huck had her first litter of 11 in Dec. 2020! Huck and Finn are both expecting litters 10/20/21-10/25/21! Please contact to get on the list for these litters! Pups will be ready just in time for Christmas!
Hunting Dog Breeds Raised
Wirehaired Pointing Griffon
Breeder Contact Info
Puppies for sale
Testimonials (2)
Submitted by: Karli Carston on Sep 05, 2018
Our family couldn't be happier with our 4 month old puppy, Kirby! This is our first Grif puppy and she is just wonderful. I visited the litter 4-5 times and Chelsea was super flexible and welcoming every time. Great communication, too, with lots of texts and photos to keep us posted.
Submitted by: Susan Reicks on May 24, 2017
Chelsea's strong connection with momma Sawyer and her pups was evident early through our email communications. She knows her puppies well. The visit to choose our puppy would have been impossible without her matchmaking help. Emails, videos, and photos keep us in touch. Chelsea and Sawyer are giving these puppies a wonderful life start.
Submit your testimonial