North 40 Griffons - Colorado Wirehaired Pointing Griffon Breeders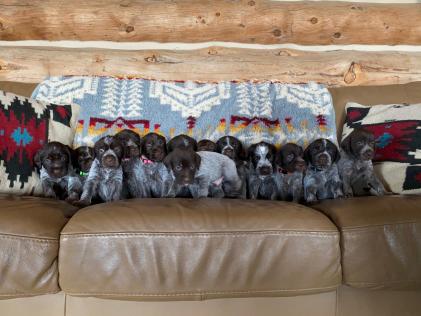 About North 40 Griffons
Here at North 40 our Griffons are Sawyer, Huckleberry, and Finnegan! Sawyer is my first Griff and had a handful of litters before being retired from breeding at age 6 after her final litter (13 pups!) in the Spring of 2020. Huck and Finn are sisters out of Illinois, with hunting parents (Sire/Dam as well as Paternal grandparents all have OFA Hip clearances). Huck and Finn both have OFA Hip and Heart clearances as well! Huck and Finn are both planning on having litters mid summer 2022! Please contact if you are interested in details on these pups!
Hunting Dog Breeds Raised
Wirehaired Pointing Griffon
Breeder Contact Info
Testimonials (3)
Submitted by: Steven Matney on Feb 02, 2022
First time Wirehaired Pointing Griffon owners. Chelsea helped make this a great experience and our Savy was out of Sawyers last litter and will be 2 in a couple of weeks. We could not be happier with her. Chelsea regularly sent pictures and videos and after many conversations, did a great job matching us with her. Prior to our Griff we were a GSP and Lab family, loved them all and had some amazing dogs and hunting companions. We will now forever have a WPG. Savy has been a poster child for the breed. She was well acclimated when we got her and is now a loving companion to our kids, gets along with all the dogs and pets she encounters and yet has a great hunting drive. This breed is eager to please and extremely smart. As an added bonus, more often than not, whenever we have her out for walks or at an event, someone stops us to ask about her.
Submitted by: Karli Carston on Sep 05, 2018
Our family couldn't be happier with our 4 month old puppy, Kirby! This is our first Grif puppy and she is just wonderful. I visited the litter 4-5 times and Chelsea was super flexible and welcoming every time. Great communication, too, with lots of texts and photos to keep us posted.
Submitted by: Susan Reicks on May 24, 2017
Chelsea's strong connection with momma Sawyer and her pups was evident early through our email communications. She knows her puppies well. The visit to choose our puppy would have been impossible without her matchmaking help. Emails, videos, and photos keep us in touch. Chelsea and Sawyer are giving these puppies a wonderful life start.
Submit your testimonial