Waidman Irish Red and White Setters - California Irish Red and White Setter Breeders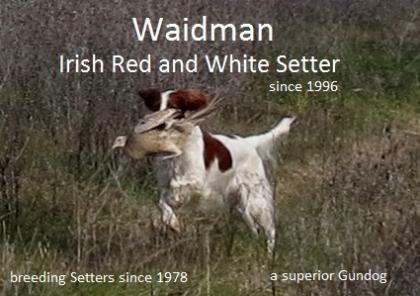 About Waidman Irish Red and White Setters
We are a dedicated hobby breeder located in Northern California, committed to breed  Irish Red and White Setters with strong working ability, making them a reliable hunting partners with great work ethics.
They are not only great bird dogs, but also excel in the show ring and most important, make one of a kind, unforgettable family companions...!!
We strongly believe that the IRWSetter thrive living in the family, all of our litters are raised in this setting and pups leave well prepared and confident.
We do not maintain a kennel setting, everyone lives with us as a member of the family.
We whelped the first IRWS litter west of the Mississippi which gave us our foundation bitch BISS ARBA, Int. Ch. LocMor Auld Lang Syne...., she went on to produce top winners and producers, with the 2009/2010 Eukanuba Best of Opposite Sex winner her great granddaughter !!!
Our males all have been imports, giving us a diverse gene pool to work with, our current German import is one of the sweetest males I ever ran across, with an impeccable work ethic and temperament.
If you like to learn more about our dogs and this wonderful breed, please visit our website
www.WaidmansIRWS.com
Litter for early 2017 !! 
GCh.Shireoak Spring Twister JH x GCh.Waidman's Hers California TaylorMade, this combination will promising pups, both for field and show !
All of our breeding stock carries required health clearances and all pups [and adults] have a written health guaranty<>Reservation for a pup from this litter is recommended !
Hunting Dog Breeds Raised
Irish Red and White Setter
Additional Services
Training, Stud Services
Breeder Contact Info
Testimonials (2)
Submitted by: Michael Lamp on Jun 21, 2007
What a wonderful experience! Bairre is such a great addition to our home. We selected Waidman's IRWS since we were looking for a dog that can do it all, show, field and also be a companion in our home. We have not been disappointed for even one second. We highly recommend anyone looking for an IRWS to contact Christina Phillips. She has a genuine love and concern for this great breed and is a real pleasure to work with.
Michael Lamp
Aramis Farms IRWS
Submitted by: Brandon Allen on Jun 21, 2007
We got our puppy from Waidmans and he has been a delightful companion in our home. We have learned a lot about this breed from Christina and have the highest regard for her love, knowledge and commitment to Irish Red and White Setters. Anyone considering this breed should contact the Phillip's for a puppy of their own.
Submit your testimonial