Sierra Llewellins - California English Pointer, English Setter, Llewellin Setter Breeders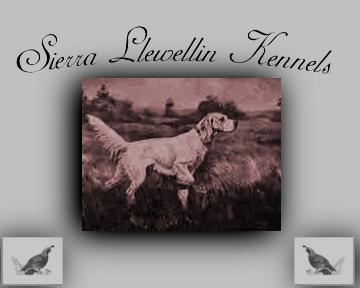 About Sierra Llewellins
By cooperative agreement we continue to breed bloodlines withWindem, Bondhu, Gladstone, Royacelle, and Bomber lineages.  
Our Windem Sire is an inline breeding of the late "Count" Gladstone Windem imported from Belguim.  Our Royacelle Sire comes from Poole's Royacell Rhett out of Georgia. Our new addition is a double bred Bomber with Bondhu lines out of Indianna

Our Brood Matrons are direct lineage to the original Duke-Rhoebe-Laverack Cross carried by a well known Sire by the name of Highway Dan.
For a in depth and very interesting history of the Llewellin Setter visit the Llewellin Setter Info Webpage at www.llewellinsetter.net/history.html
2013 Pups available now. Call for details. Pics have been posted pedigree available upon request.

Hunting Dog Breeds Raised
English Pointer, English Setter, Llewellin Setter
Additional Services
Stud Services
Breeder Contact Info
Testimonials (0)