Red Diamond Vizslas - California Vizsla Breeders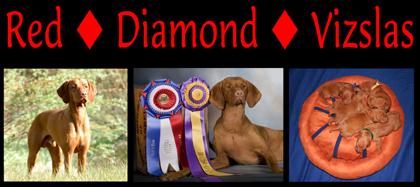 About Red Diamond Vizslas
Puppies occasionally, but reputable breeder referrals and breed education & information is always available.
Red Diamond is a small kennel with each breeding being specifically and carefully planned.  Each breeding is very important to us.
My breeding goal is to produce dogs that can succeed in the ring as well as the field - a dual purpose dog...a beautiful, life long companion, great hunter with natural ability, who is willing to compete in various canine activites or just fill your heart.
Temperament and health is the utmost importance.  Health testing of both the dam and sire is an absolute.  I adhere to the Breeder Code of Ethics of the Vizsla Club of America where I am on the Board of Directors.  I additionally serve as President of the Vizsla Club of Northern California. I am also an AKC Breeder of Merit.
Red Diamond puppies are highly socialized to the highest standards prior to going home as well as temperament tested.  Our puppies come with a 3 year health guarantee as well as a lifetime of support.
Please visit the Red Diamond website for more information.
Please do not settle when looking for a puppy. Do your research before selecting a "breeder" and buying a puppy. Not all breeders are reputable.
Hunting Dog Breeds Raised
Vizsla
Breeder Contact Info
Testimonials (3)
Submitted by: David J West on Dec 17, 2009
After extensive research into breeders I narrowed my choices down to two breeders and chose Michelle. I have been a Vizsla owner for 8 years and found Michelle to be great to work with. Michelle was very helpfull in choosing the right puppy for us and we could not be happier. Michelle took the time to fit a puppy in her litter to our needs, The support we have recieved before and after picking up our Renegade has been great. Michelle stays involved in the progress of our boy and guides us when we need help. We feel we have a friend who cares about her puppies as well as us and not just a breeder. Renegade draws attention wherever we show him for his conformation and Personality. We look forward to the future working with Michelle and would highly recomend her and her puppies to anyone looking for a very well rounded dog and ownership experience.
Submitted by: Saskia Lotfi on Dec 10, 2009
After doing our homework, my husband and I decided that a Vizsla was the best fit for us and our lives. We called a few contacts we had made at dog shows, etc. and those led us to Michelle. Our experience with her, both before and after acquiring our beloved Ryder (Red Diamond In Your Dreams), was superlative. She took great care to make sure that we were the "right sort" to even own a Red Dog, and then to match us with the right pup from the Dream Team. She was supportive before, during and after the actual transaction, even offering to take our 13 month old pup off our hands for a while when our human pup arrived in August. Luckily, he is such a wonderful companion, intelligent and loving, that a hiatus wasn't necessary! We get endless compliments on him, both in confirmation and temperament, and have referred countless folks to Michelle. We know that, with each litter, she will take as great care with her pups and their families as she did with us. Who says you can't buy love??
Submitted by: Bethany Williams on Nov 05, 2009
My husband and I got our puppy Whiskey from the Dream Team Litter at Red Diamond Vizslas (CH Red Diamond Dream on the Rocks). We had researched breeders, sires and dams for over a year before deciding to work with Michelle. We could not have had a better experience. Whiskey is the love our lives. He loves the field, was an early show Champion, and has a fantastic temperment, which was our most important concern. We could not imagine life without him. Beyond getting a great dog, we also have a hugely supportive relationship with our breeder. As new dog owners, she helped with training, referrals, puppy sitting and any other random questions that came up along the way. Our dog Whiskey loves Michelle, which speaks to the personal care and attention that each one of her puppies gets from her. We're so glad we took the time to wait for the right breeder and the right litter. Two thumbs (and one paw) up!
Submit your testimonial