Great Oak Kennels - California German Shorthaired Pointer Breeders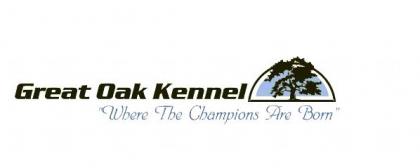 About Great Oak Kennels
We pride ourselves on versatile hunting dogs.  Our dogs are upland and waterfowl hunters and proven in AKC & NAVHDA tests.
Latest kennel news, Ralph Martinez and VC Great Oak Citori attend NAVHDA's Invitational 2015 in Ohio and earned 197/200 score "Versatile Champion" title. Thank you, Ralph, for making it to this elite level with Citori. Very proud to have you as part of our kennel -team-family.
In 2013, VC Great Oak's Wild One, AKA "Beau" owned and handled by Brett Marek competed and earned a 193 score "Versatile Champion" title.  Beau is a first generation Great Oak Versatile Champion Dog from our "B" Litter (Duke's Pointing Pistol UT II-185 X Dax Duchess of Deutschland NA III-95)
In 2011, VC Great Oak's Ricochet, AKA "Coco" owned and handled by Tim Dalton passed and earned the qualifing score in the NAVHDA Invitational in Ohio.  Coco is a first generation Great Oak Versatile Champion Dog.
In 2009, VC Wingwise Destiny MH, AKA "Dee" competed in the NAVHDA Invitational in Ohio and earned a maximum score, 200, "Versatile Champion" title. 
In 2008, we bred VC Wingwise Destiny to KMK Smoken Jake V. Greif (UT 198/I) and earned a Natural Breeders Award.
We offer guided Pheasant, Quail, Dove and Duck Hunts in Mexico...
L
Hunting Dog Breeds Raised
German Shorthaired Pointer
Additional Services
Hunting, Training, Birds for sale
Breeder Contact Info
Puppies for sale
Our Pedigrees
Testimonials (6)
Submitted by: Ralph Martinez on Feb 19, 2015
Researched local kennels for years before I bought a dog from Great Oak...it was worth it. My pup Great Oak's Over'N Under Citori (Great Oak's Take Aim X VC Mio Vom Beaver Creeks) is an amazing hunter and testing dog. We earned a NA prize 1 with a max score and a UT prize 1. We will be headed to the Invitational this summer. Gabby is extremely knowledgeable and always willing to help his pups. Thanks for the great dogs
Submitted by: PJ McAdams on Jun 08, 2011
Gabriel Awbrey of Great Oak Kennels is a talented trainer and reliable advisor regarding sporting dogs. When I wanted to breed my awesome GSP, Greta, I went to Gabby for a sire. He matched Greta with Great Oak's Wild One, and the ensuing pups were absolutely fantastic...beautiful coats & good heads, great colors & conformation, super healthy, very friendly & willing to please personalities. The sire, Beau, was a perfect gentleman with my Greta, when the breeding occurred. Beau is an excellent hunter, and I'm sure he will get his National Versatile Championship this year. I'm looking forward to seeing Beau & Greta's pups kicking butt in the field...just like their dad!
PJ McAdams of Iron Mountain Outfitters
Submitted by: Gabriel Awbrey on Apr 12, 2010
Congratulations! Brett Marek and Great Oak's Wild One AKA "Beau", 1 yr. 10 month old GSP, for earning their first Utility NAVHDA Award, UT Prize II/200. Brett worked consitently with his dog and it paid off. They received all 4's in Nose, Pointing, Steadiness, Retrieve of Shot Bird, Drag and Duck, Remain & Steady By Blind, Desire to Work, Cooperation and Obedience. The only "hick up" was the beginning of Duck Search but finished strong enough to earn a "3". Beau is an honest dog in field and water with a little more time for the handler to develop they will soon earn a ticket to the "Big Dance - Invitational". Brett has become a reliable training partner and friend. Thanks for taking a chance with my dogs and kennel.
Best Wishes,
Gabriel Awbrey of Great Oak Kennels
Submitted by: brett on Jan 11, 2010
I own Great Oaks Wild One(Beau). Beau is an award winning hunt test dog and proven in the field. The breeder, Gabby has always provided me with the guidance and skills to produce a great hunting dog. At the age of nine months Beau received a perfect score, prize one, in the NAVADA NA hunt test. The first year in the field he has pointed and retrieved dove, quail, pheasant and ducks. Beau is not only a great hunting dog, but he loves my family and is great with kids. I would recommend Great Oaks Kennels to anyone looking for a quality hunting dog from a great breeder.
Submitted by: Edward Davidson on Dec 28, 2009
Gabriel Awbrey is the local dog trainer for our San Diego NAVDHA chapter. I had my Brittany trained by him and my dog is becoming a great hunting dog and at a year old is pointing and retrieving wild birds. Gaby also trains for hunt tests as well true field work since there is a difference in hunting versus testing. I expect his next litter to provide some great pups for the field.
Submitted by: Tim on Dec 02, 2009
Great Oaks has produced great dogs. I have seen, trained with, and tested with many of the dogs and I can say that they have got it! The litter that my dog is from earned Great Oaks a breeders award. Gabriel is also a trainer, so he can help out novice trainers like myself whenever there are any questions. I highly recommend this breeder!
Submit your testimonial