4K LABRADORS - California Labrador Retriever Breeders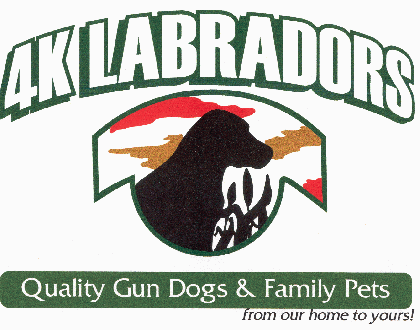 About 4K LABRADORS
Here at 4 K Labradors started back in 2000 we provide quality gundogs and family pets from our home to yours. We have field and show lines available in all colors(Black,Yellow and Chocolate). We actively compete in AKC HUNT TEST and conformation events and in tournament hunting competitions. Contact Scott at (559) 289-1695 or email at labs4k@aol.com . We are located in Fresno, CA. We have tournament hunting champions, hunt test titled dogs, and AKC and International Champions at stud.(We are breeders of merit with the AKC.) All of our breeding stock are OFA clear for hips, & elbows. We also cerf annually. We do everything we can to reduce the chance of hereditary issues occurring in your future puppy. Give us a call to come visit our kennel and meet your new bestfriend. Thank you and have a great day !!!!! We do take credit cards thru Pay Pal, Venmo and Cash APP.
Hunting Dog Breeds Raised
Labrador Retriever
Additional Services
Hunting, Training, Stud Services, Birds for sale
Breeder Contact Info
Puppies for sale
Our Pedigrees
Testimonials (2)
Submitted by: Randy king on Aug 01, 2012
Kinda new at this but I'll give it a shot ! Just wanted to go out of my way to say special thanks to Scott and Christine probably most of his clients buy their dogs with hunting in mind and although he in my opinion breeds and sells the best hunting dogs their are ! He also sells the best family oriented dogs there are !!! That's where I come in i've had several labs all purchased from a typical backyard breeder I just didn't know any better and thought there wasn't any difference ! Well after thousands of dollars and bad health problems I decided to go to a breeder ! Scott came highly recommend he didn't choose the dog I wanted he chose the dog that was perfect for my lifestyle ! What I got was the most loyal amazing companion I've ever had ! He goes everywhere I go never leaves my side and has truly changed my life ! To this day I keep in touch with Scott by email he's fast proficient and always wants to know how Duke is doing we never miss a sportsman show Scott puts on and duke is right by my side as obedient as he can be !! So even if your not ever gonna use your dog to hunt and just want an amazing companion Scott and Christine will not only be by your side every step of the way but will change your life !! Thanks again for reading hope you have a good day !!!! Randy King
Submitted by: Randy Ingram on Jun 14, 2012
I've only hunted ducks for 3 years now, and I'm so hooked that I decided it was time for a hunting dog. Having years of experience with animals in the Ag. world, and dog owners for pig and deer hunting, I had a basic idea of what I was looking for in terms of a dog breeder. Or so I thought! Scott and Christine Kovacevich exceeded any and all preconceived expectations of what a professional dog breeder is and what they provide. I shared with them my desires in a Labrador retriever, informed them that I was a real rookie at this, and they took it from there. The patience they displayed with all of my questions (even the ones I repeated over and over)was dealt with in the most caring and understanding manner. I also quickly realized the integrity and honesty of their answers, after having talked, beforehand, with other hunting dog owners who had dealt with numerous dog breeders in the past. It was very reassuring to me that I was dealing with a professional dog breeder who not only cared a great deal about his clients needs, but that of their dogs and what kind of home they would be going to. Scott is the rare breed of man now a days, who when he shakes your hand, you know you have a man of his word, and will bend over backwards to bring together the perfect hunting dog/owner relationship. My dog Teazer, is just that. Very intelligent, outgoing, brave, and a wonderful caring pup who is already, at ten weeks, quickly learning the basic commands for dog ownership and safety. He's a very outgoing pup who loves to explore, play, and be around all family members. I can't wait to start the training for duck, pheasant, geese, and other exciting birds, with my new member of our family. If you're looking for a breeder who won't beat around the bush, tells it like it is,and does so with integrity, honesty and professionalism,then Scott is definitely your hunting dog breeder. He listens, quickly responds to any phone messages or texts, and does follow up calls to make sure things are going smoothly for you and your dog. With out a doubt I highly recommend Scott and Christine to anybody who is looking for quality dogs with incredible pedigrees. Some of the finest in the hunting world!
Submit your testimonial