Palermo Ranch Kennels - California German Shorthaired Pointer Breeders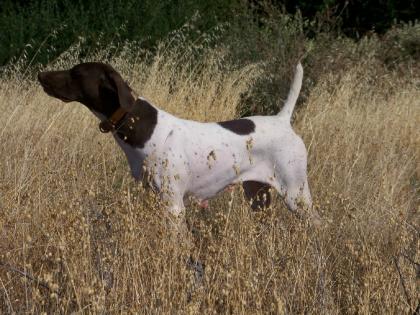 About Palermo Ranch Kennels
German Shorthaired Pointers
We have GSP pups as well as  started dogs available most of the time.   Our pups are sired by the best hunting and field bred lines in the US to be the very best hunting dogs available. Pups have lots of point, lots of hunt, great noses, very trainable and intelligent. These dogs are eagar to please with tons of natural ability. These are high end hunting dogs with pedigrees reflecting the very best the breed has to offer. All dogs come with shots, wormed, a written guarantee that covers health as well as  all of the above mentioned traits.  "Complete satisfaction" guaranteed for two years.....or we will replace the pup.  It pays to buy the best. There is a difference, see for yourself.
English Labrador Retrievers........We also breed "English" bred labs. We breed these for family companions as well as a hunting partner in the field. Our dogs are bred for excellent temperaments, intelligence, biddable while still keeping the hunting instinct and retrieving ability.
Hunting Dog Breeds Raised
German Shorthaired Pointer
Breeder Contact Info
Testimonials (6)
Submitted by: Linda Woody on May 01, 2010
I have been very pleased with results of dogs purchased from Doug Stocks. He is great guy to work with.
Submitted by: Dr Michael Woody on May 01, 2010
I have been very happy with my experience with Doug and Palermo Ranch Kennel. I can recommend his pups to anyone interested in Quality Breeding. I have entrusted my NFC Flash to stand stud at Doug facility , because I know he will be treated like a Champ should.
Submitted by: matt brabo on Apr 30, 2010
In the last three years I have bought two GSP's from Doug Stocks at Palermo Ranch Kennels. These dogs are of the highest of caliber, there drive to hunt and please is outstanding. They have made great companions, and even better gun dog's. Mr. Stocks has been available to me with any questions that that should arise with my dogs. Palermo Ranch Kennels is the place to go if you are interested in grade A GUN DOGS.
Submitted by: Helen Heathcock on Apr 30, 2010
Palermo Ranch Kennels has been very helpful in my search for a hunting dog and a great companion. Doug Stocks took the time to help pick the perfect dog that met all my needs. I decided on a Female and I purchased her in 2008- This dog is amazing her drive and willingness to please are outstanding. Palermo Ranch Kennels is the only place I recommend to any who asks. Doug Stocks runs a top of the line facility
Thanks Doug!
Submitted by: Harold Gunther on Apr 30, 2010
Doug, just to give you another update, the dog is doing wonderful. His drive to find and locate the bird wings has been amazing. He locks up on point every time. He is very calm around the family but loves attention. I look forward to getting him out in the field to see how he'll respond to live birds. Thanks for everything. Palermo Ranch Kennels has been wonderful.
Submitted by: Bob Stein on Apr 22, 2009
I bought a female out of Rawhides Shamrock from Doug Stocks several years ago. The dog hunts like a pro and has the drive like no other GSP I have ever seen. I later bred the dog with one of Doug's stud dogs. Doug was very helpful and clearly knows what he is doing. Doug's dogs are not inexpensive but I believe they are excellent.
Submit your testimonial