KASOMOR NOVA SCOTIA DUCK TOLLING RETRIEVERS - British Columbia Nova Scotia Duck Tolling Retriever Breeders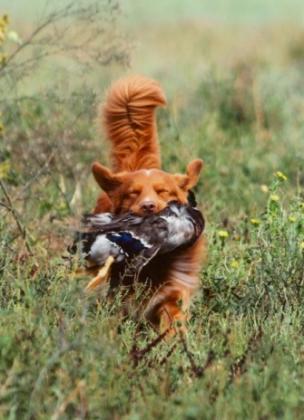 About KASOMOR NOVA SCOTIA DUCK TOLLING RETRIEVERS
Our tollers compete successfully in Hunt Tests and are HUNTED HARD each fall.
Bred with temperament, health, sound structure and the ability to succeed in any event in mind, our tollers do it all AND look good while doing it!
If you are interested in tollers proven in hunting, hunt tests, obedience and the show ring or simply just want to explore what tollers are all about, come see what our tollers have been up to lately!
(pictured; "Iko", a Trio son, running the Master Hunt Test at the 2008 NSDTRC (US) Specialty)


Hunting Dog Breeds Raised
Nova Scotia Duck Tolling Retriever
Additional Services
Stud Services
Breeder Contact Info
Testimonials (0)