Grizzly Ridge Wirehairs - British Columbia German Wirehaired Pointer Breeders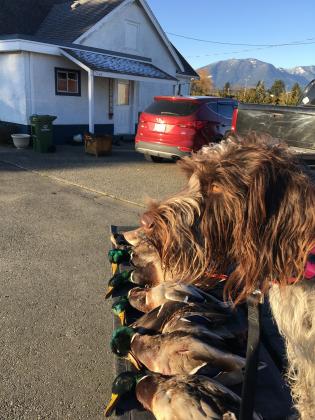 About Grizzly Ridge Wirehairs
True on paper we have just started as this is our first breeding. But we have had hunting dogs for close to 40 years now. Over the years I have owned and Hunted with Weimaraners ,English Springer Spaniels, Brittany's, German Shorthaired Pointers and now we have found what i feel is the Best of the Best, the German Wirehaired Pointer. Our Female Bellatrix of Windwalker Wirehairs is a very well rounded good citizen with a great off switch in the house, kids and other small animals. But in the field she is a machine with a great nose, drive and instincts. True we would love to see our puppies go to hunting homes, but we are more inclined to lean towards a stable Loving home than a hunting one when push comes to shove. We raise and release pheasants and have had chukars, so our dogs get plenty of first hand interaction with gamebirds.
We will have our puppies Vet checked CKC registered, microchipped and the contract will be worded with a limited registration regarding breeding and a Health Guarantee.
We recommend doing the research on the GWP as they are a hunting dog by breeding which means they will follow their nose and instincts and that can lead them away from your protection. We also highly recommend a GPS tracking collar and it will help save your dogs life and truly help with training and your piece of mind. We can talk about what we use and where we got it.
We will help go over with training or just general info about how the work with and live with your wirehair.
Call or email with questions etc and if you want a puppy we will be accepting deposits on the puppies and the first choices go to the first deposits.
Hunting Dog Breeds Raised
German Wirehaired Pointer
Breeder Contact Info
Testimonials (0)