Redwood Creek Kennel - Arkansas Irish Setter, Irish Water Spaniel, Kemmer Feist, Kooikerhondje, Labrador Retriever, Large Munsterlander, Llewellin Setter, Mountain Cur, Nova Scotia Duck Tolling Retriever, Old Danish Pointer, Original Mountain Cur, Otterhound, Patterdale Terrier, Picardy Spaniel, Plott Hound, Portuguese Podengo Medio, Portuguese Pointer, Portuguese Water Dog, Pudelpointer, Redbone Coonhound, Running Walker Hound, Russian Spaniel, Slovakian Rough Haired Pointer, Small Munsterlander, Spaniel de Pont Audemer, Spanish Water Dog, Spinone Italiano, Springer Spaniel, Standard Poodle, Sussex Spaniel, Texas Lacy Game Dogs, Treeing Rat Terrier, Treeing Tennessee Brindle, Treeing Walker Coonhound, Vizsla, Weimaraner Breeders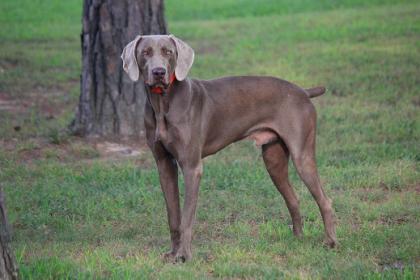 About Redwood Creek Kennel
My daugher and I are small hobby breeders .Our website is redwoodcreekkennel.com.We are a USDA and AKC inspected kennel. We have 3 breeding Irish Setter females, 2 breeding Weimaraners, and 3 breeding Pomeranians. Our dogs get plenty of love and attention. Our goal is to provide you with a healthy, beautifully coated and sound stuctured companion that you can share many years of love and devotion!
Hunting Dog Breeds Raised
Irish Setter, Irish Water Spaniel, Kemmer Feist, Kooikerhondje, Labrador Retriever, Large Munsterlander, Llewellin Setter, Mountain Cur, Nova Scotia Duck Tolling Retriever, Old Danish Pointer, Original Mountain Cur, Otterhound, Patterdale Terrier, Picardy Spaniel, Plott Hound, Portuguese Podengo Medio, Portuguese Pointer, Portuguese Water Dog, Pudelpointer, Redbone Coonhound, Running Walker Hound, Russian Spaniel, Slovakian Rough Haired Pointer, Small Munsterlander, Spaniel de Pont Audemer, Spanish Water Dog, Spinone Italiano, Springer Spaniel, Standard Poodle, Sussex Spaniel, Texas Lacy Game Dogs, Treeing Rat Terrier, Treeing Tennessee Brindle, Treeing Walker Coonhound, Vizsla, Weimaraner
Additional Services
Stud Services
Breeder Contact Info
Testimonials (5)
Submitted by: Savannah on Mar 27, 2019
We adopted our sweet Irish Setter two years ago, and we couldn't have asked for a better experience. Monica was very timely with her responses and answered every question we had. Our little girl Heidi is two now and is the absolute best!! She has the sweetest temperament and we love her more than anything!
Submitted by: Beth McLaughlin on Oct 10, 2018
Two years ago, we made the trip from Fort Worth to somewhere in the nowhere middle of Arkansas to meet a ten month old Irish Setter called Cowboy. The warning: he had a little nerve condition from being nipped as a baby. Whatever. He was beautiful and we fell in love.
We changed his name to Finn, introduced him to his mentor (Axel), and welcomed him into our family. Turns out, the nerve problem is just a personality trait. He hops when he's happy. That makes people laugh and then they are happy, too.
He is without a doubt the sweetest, mushiest, and silliest of the eight setters who have owned us.
Submitted by: Phillip Miller on Nov 09, 2017
We purchased a gordon setter puppy from Kim back in 2012, and had a great experience. She shipped him to Dulles Airport where I picked the little fella up and took him home. He is a beautiful dog and a great pet, and our family is very thankful for him. Thank you, Kim.
Submitted by: Alexandra on May 23, 2016
We bought an Irish setter from redwood creek and he is the best companion! Kim was so easy to deal with and very generous! Her dogs are beautiful and it really shoes into their puppies! I would highly recommend a puppy from this breeder!
Submitted by: allen cloud on Mar 19, 2015
We adopted a very sweet Gordon Setter from Kim and Monica Beery. She has fit into our family very well as my wife's constant companion. She acts as official greeter at my wife's store. She is exceptionally well mannered and easily trained.
Submit your testimonial