Lee's Briar Creek Labradors - Arkansas Labrador Retriever Breeders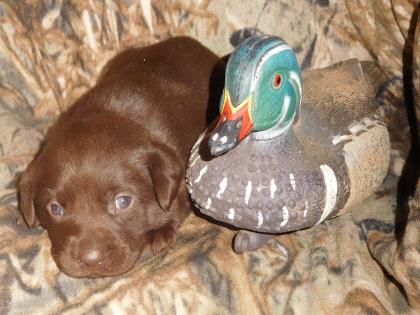 About Lee's Briar Creek Labradors
We are excited to bring our clients Healthy, Happy Lab pups. We will be scenting our pups to Upland Game and Waterfowl to be your future Gun Dogs. They will also make excellent pups for you and your family as a Home Companion. We offer our clients a 26 Month Genetic Replacement Guarantee for Hip and/or Elbow Dysplasia and PRA and CPRA of the eyes. Their AKC Registration Papers will be correctly filled out for you to send back to the AKC. God Bless you and your family ... Terry Lee.
Hunting Dog Breeds Raised
Labrador Retriever
Additional Services
Stud Services
Breeder Contact Info
Testimonials (2)
Submitted by: Ted Sellitti on Dec 27, 2018
I purchased a beautiful chocolate female (Powder) from Terry who is turning out to be a highly intelligent and spirited little girl of 40#'s at 6 months. After having to put down my beautiful 100# male chocolate Bullet last year, I needed another good Lab to love and keep me company, and Powder has fit the bill magnificently!! Thanks to Terry my little girl is a comfort and a joy to have. She experienced snow for the first time today and couldn't get enough of running in it and eating it. She has a great nose and is going to be a great hunting companion and pet for many days to come.
Submitted by: Terry Lee on Mar 09, 2018
Testimonial from Clayton Sloan - I have a Black Lab I got from Terry Lee this past December and couldn't be more satisfied with him. He is now 3.5 months old and has Here, Sit, Stay, and Heel down pretty good and has an awesome drive. I recommend Lee's Creek Labradors to anyone who is looking for a great pup. Terry Lee is a Honest, Respectable breeder and was very helpful! Thank youll!
Submit your testimonial