I AM Ranch Miniature Horses - Arizona Labrador Retriever Breeders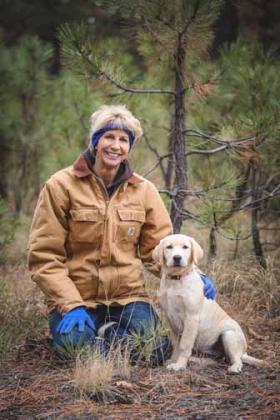 About I AM Ranch Miniature Horses
We are small hobby breeders that love our Labs and our privileged to own an excellent line of Labradors. We strive to produce the dog that America fell in love with; one that is not hyper, but an ideal companion dog, eager to learn and is at home in the hunting field as in the back yard. Our goal is for the original intent for the breed, the all versatile dog. Thus, we do not only breed from English lines, nor solely from American lines. Our puppies have the American stamina and athleticism, with some of the English build for better strength and bone substance. Our goal is also to provide you with a family companion and/or hunting dog that will be with your for a dog's lifetime. Thus, we do the preliminary genetic testing, x-rays, bloodwork, etc i to do what we can to provide this. Look at our dogs below and you will see good bone size and strength. You will also see that they are long legged .
Hunting Dog Breeds Raised
Labrador Retriever
Additional Services
Boarding, Birds for sale
Breeder Contact Info
Testimonials (4)
Submitted by: Bonnie Bailey on Mar 30, 2013
Our precious child Rosie is our beautiful child, she is now 13 months old. She weighs 98 lbs, so full of endless energy . She runs for a couple hrs each evening, she love to fetch. Has never gone potty in the house, she has taught herself to go and sit in the same corner like time out when she wants to go outside. She never crys, she makes a noise like a cow and try to talk to us. She either sleeps behind our head with her face on ours or our shoulder. She loves to sleep under all the covers. When her water bowl is empty she carries it in her mouth. She has never been left by herself, either with me or Tom. She loves to have the heating pad over her or lays on it. When all stretched out she is around 5 1/2 feet long. She has very long muscular legs. She is about 2-3 inches taller than Koner and longer, with a huge chest and very long big legs. She runs like a jet or fright train, so very fast. In case you can't tell, we love her like I gave birth to her. Thank you for the most precious little girl. She loves to sit in our lap or lay across us. She is so precious, she makes us laugh all the time. The story of Rosie..born Feb 2nd.
Submitted by: Bonnie l. Bailey on Aug 04, 2012
We purchased a chocolate lab puppy from Beth...the last of Mar. She was born Feb 2, 2012...we picked her up the last of March when she was 7 wks old. We named her Rosie...she is now 6 months old. She sleeps with us every night, was potty trained from day one...fetches, turns on lights and opens doors. She is close to sixty lbs and runs almost as fast as a pony. She is absolutly beautiful and her personality is A + ....she is our child, she has never been lift alone, we play with Rosie every night in our hugh back yard. she list all of her baby teeth between 3-4 months and has all of her Hugh adult teeth. July 13th we had her fixed and she was up running around the next day ...like nothing had ever been done. if any one is interested in purchasing the best Lab in the world...go to Beth...I am Ranch...Rosie's first parents were Buddy and Goldie. We thank God everyday for this beautiful baby girl and being guided to Beth the Breeder...Thank you for this beautiful Miracle!!!
Submitted by: kade haderlie on Jun 14, 2009
I bought a dog from this breeder, and it is everything I have ever wanted in a Lab. I have started hunting training and the dog just has it in its blood. Highly recommended for anyone!!!
Submitted by: Graves Labrador Retrievers on May 28, 2009
I own one of this females pups and she is awesome! She is now a started hunter and wonderful with my granddaughter. You can not go wrong getting a pup from this breeder!
Submit your testimonial