HIGH TAIL KENNEL - Arizona English Pointer Breeders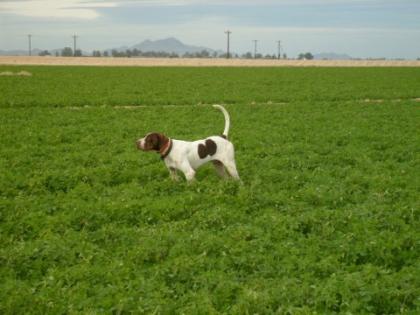 About HIGH TAIL KENNEL
Registered Elhew English Pointers.
Puppies none at this time (will will breed again in the fall of 2008)
Started dogs Nitro is currently for sale!
Training.
Hunting Dog Breeds Raised
English Pointer
Additional Services
Training, Stud Services
Breeder Contact Info
Testimonials (3)
Submitted by: Ray Romey on Apr 16, 2008
My "High Tail" pup turned 4mos old last week and she is already pointing live birds on scent. Her instinct and desire to hunt is remarkable. She has alot of brains and personality to boot. From what I have seen so far finishing her into a great bird dog should be alot more pleasure than work. This next Fall Quail season should be alot of fun!
Submitted by: Richard Field on Dec 10, 2007
These Elhew dogs that High Tail breeds are affectionate family dogs with a ton of hunting ability. My pup was a breeze to train. No thanks to my ability but to the breeding of these dogs. They are just full of natural instinct. I was lucky to have gotten my first pointer from Rich at High Tail Kennel. I,ll be back when I have room for another one.
Submitted by: Gregg Morgan on Dec 04, 2007
I have a 2-year old bitch from this breeder. She is very bidable, moves with grace, and can run all day. She has a very good nose. She is in the yard or kennel in the daytime and in the house with us at night. She's just an all around good citizen. We're very happy with her.
Submit your testimonial