Graves Labrador Retrievers - Arizona Labrador Retriever Breeders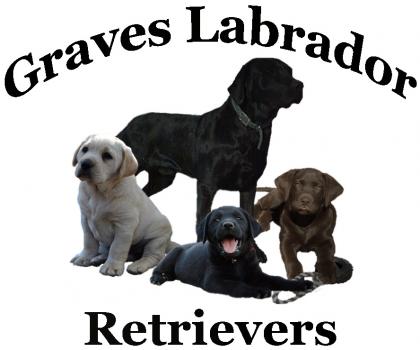 About Graves Labrador Retrievers
We breed and raise AKC Labrador Retrievers. We strive to have the greatest Labrador Retrievers the breed has to offer, therefore, we do not line breed or interbreed! Our pups have yet to have any health or mental problems and we intended to keep it that way! We guarantee all of our pups.
All of our pups are socialized with children of all ages as well as around different types of animals. They are also raised outside with adequate shelter. We do this for many reasons. Above all it is for their health. Dogs do NOT live by years as humans do, they live by the seasons. Raised out in the dirt also creates tight paws. Makes it easier to potty train in their new homes. They are exposed to loud noises as well as other noises. Our goal is for the original intent for the breed, the all versatile dog. So there for our pups are 1/2 American & 1/2 English Breed. They have the American stamina, with some of the English build for better health. We welcome any questions you may have. Or come by to visit our pack.

We are not back yard breeders! We love our dogs and they are our hunting partners, companions as well as excellent watch dogs.

When contacting us through this site, please send your e-mail address or phone number. The site does not give this information to me.
Hunting Dog Breeds Raised
Labrador Retriever
Additional Services
Stud Services
Breeder Contact Info
Our Pedigrees
Testimonials (1)
Submitted by: Christy Ross on Apr 22, 2016
We were very happy with Graves Labrador Retrievers.
We have a Chocolate Lab who has silver in her background. Genia guaranteed we would have all Chocolate puppies and we sure did.
We had 8 very healthy puppies.
Thanks Genia, we will sure use you again.
Submit your testimonial