Friar Clumber Spaniels - Arizona Clumber Spaniel Breeders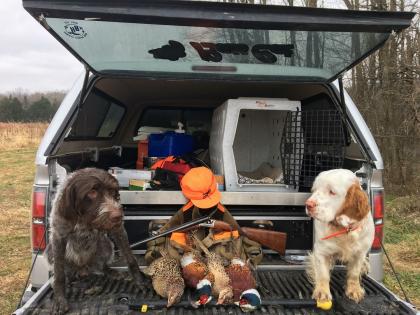 About Friar Clumber Spaniels
March 2018. This is our Best of Both Worlds litter. For generations, Friar Clumbers have sought out the best master and senior hunter clumbers to incorporate into our pedigrees. This effort has paid great rewards in structure, movement, endurance and intelligence. Always the problem has been when to go "All In" for the perfect show dog that checks all the boxes. Hands down Jack (Supreme CH Clussexx Kangaroo Jack) is The dog for Roxanne (CH Friar's Roxanne's Red Light) and Windsor (Can and Aust CH Whitehawk Nonsuch Windsor) is The dog for her daughter Dyna (CH Friar and Painswick's TNT I'm Dynamite). Tracey and I know the background and progeny of all the clumbers in our respective pedigrees. We know "what works" with what. We have never been more excited about anything in our long history of clumbers (50 years combined) than these 2 breedings. There are more great things on the horizon. Even if you are just curious about the breed, check back every once in a while or follow our web page at www.friarandpainswickclumbers.com. Jack is also expecting pups in Australia soon and has a litter on the ground in Norway. If you are interested in our dogs please fill out our questionnaire on our home page www friarandpainswickclumbers.com We are dedicated to the Dual Purpose Clumber and the Best of Both worlds. We support the Clumber hunting community by breeding to these top level Hunt title Clumbers. We do not stop there, a Clumber should look as good as it hunts. Hundreds of Show Group placements are also represented, by some of the greatest Clumbers in the history of the breed. Our policy is to breed for temperament and type. We are long time members of the CSCA and we abide by their Breeders Code of Ethics. We have recently combined with Painswick Clumbers from Australia where currently we have the number one clumber. Our aim: always in search of breeding the perfect clumber - one that not only excels in the field and show ring, but has a grand temperament and great health clearances WWW.FRIARANDPAINSWICKCLUMBERS.COM
Hunting Dog Breeds Raised
Clumber Spaniel
Additional Services
Hunting, Stud Services, Boarding
Breeder Contact Info
Testimonials (3)
Submitted by: Susan on Oct 13, 2014
Friar's carefully researches the breedings striving for form, function, temperament and health. My girl has tremendous drive and ambition. At the age of 4 she is the 9th Clumber to ever have earned a UD. Her work has just begun. Thanks to a superb and caring breeder.
Submitted by: Donovan on Dec 31, 2010
The Crouch's immense care they put into breeding and insuring the young dogs are placed with owners that care is amazing. Our girl has a great personality and drive, a wonderful nose for tracking and extremely fit. We feel privileged to have one of their Clumbers as a part of the family and looking forward to great things ahead.
Submitted by: Nora on Dec 21, 2009
The love and care that the Crouch's put into their very carefully planned breeding is amazing. They also take the same care in selecting the new owners of their pups.
We adore them and we adore our Clumber . . .
Submit your testimonial