Blue Collar Brittanys - Arizona American Brittany Breeders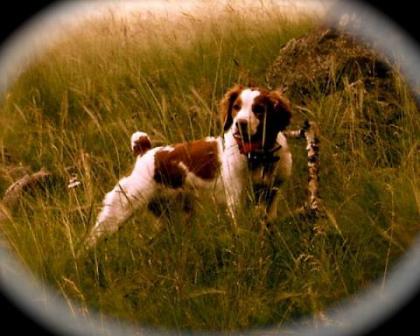 About Blue Collar Brittanys
Blue Collar Brittanys
"Workin Dogs"
We breed top quality Brittany Hunting/Trial dogs for the discriminating Brittany enthusiast. We research our breedings carefully picking the best stud possible for our females. So far that has meant that we have ALWAYS went outside our own family of dogs to achieve our desired results. This costs more money, (stud fees,travel etc.) but is the only way to develop a top line of dogs. Only after years of developing our line will we consider doing an "in house" breeding. We do have one hot male prospect that may in time develop into a top tier dog. But he must prove himself in competition first. Even though we like him a lot, we are biased. He needs to show his stuff to independant judges and be judged the best against his peers before we will use him as a stud.
We are NOT in this to have a lot of puppies to sell, but to have a few very good puppies when the opportunity to advance our program presents itself. We have only had 3 litters since 2003. But all of the pups we have produced have won at AKC field trials. excepting a few that went to hunting only homes
Hunting Dog Breeds Raised
American Brittany
Additional Services
Stud Services, Birds for sale
Breeder Contact Info
Testimonials (2)
Submitted by: Arlette on May 02, 2011
Martin and Julie care very much about their dogs and what few breeding's they do I can guarantee there is a lot of thought that goes into them and you will get that pup that will make a great companion to trial dog.
Submitted by: Bob H. on May 02, 2011
We have got to work with a few of the Maresh's Brittanys and they have shown to be true bird dogs with a lot of natural abilities.
Submit your testimonial