Sterling Silver Labradors - Alberta Labrador Retriever Breeders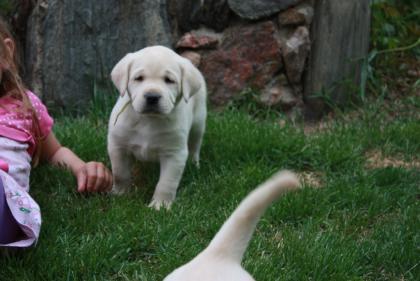 About Sterling Silver Labradors
We are professional breeders of quality labradors. Our dogs and puppies all have the halmark laid back lab temperament with good retrieving instincts for companions or hunting. Our focus is on white and cream labradors, but we also have at least one litter of , black and chocolate, as well as silver and charcoals a year. Our spring litters are on their way, our first litter due February 9th will be white.
Puppies now availible
Hunting Dog Breeds Raised
Labrador Retriever
Breeder Contact Info
Testimonials (1)
Submitted by: lisa on Feb 19, 2010
Just about one year ago my husband and daughter went to the Toronto Pearson airport to pick up our new puppie we named sugar willow ... I must admit that my excitement was tempered with some trepidation about having a pup sent from so far away without the ability to meet the "parents" or even a chance to choose our pup in person .... Within minutes of meeting willow my fears were gone ... She is the most balanced, mellow, loving girl and almost one year later she has become our cherished dog with quite a reputation ... everyone loves her ... people stop and ask about her and we have heard repeatedly that she is the most beautiful well tempered dog they have met ... people we know well tease us that if we ever want to find her a new home they would gladly take her !! We have even had non-dog people warm to her contagious gentle affection ... she is wonderful with our kids (ranging from 1.5 years to 7) and is definately part of our family ... Our family cannot thank Tammy enough for her education, patience and assistance with choosing the best pup for our home .. We cannot say enough good things about this kennel or our willow ...
Submit your testimonial