Wingshot Kennels - Alabama Braque Francais, Vizsla Breeders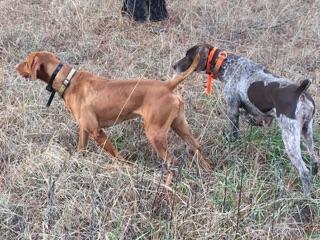 About Wingshot Kennels
Wingshot Kennels ... breeding versatile dogs for discriminating dog owners... our dogs hunt. We are located in Alpine, a small rural town an hour southeast of Birmingham, Alabama. We are about 2 hours from Atlanta & Montgomery . Our home is in the country and sits on a hillside across from beautiful Logan Martin Lake. Our kennel allows us the privilege to be able to provide puppies for placement with families who share the same type of love for dogs, hunting & the outdoors as we do. We are honest breeders with 25+ years experience and are committed to raising healthy, happy puppies. We raise both Vizsla's and Braque Francais. Both are energetic breeds that form a close bond to their human. All of our dogs are from hunting lines and are bred for conformation, temperament, intelligence, also endurance & bird finding ability. They are all day dogs that will give you all they have. Many of our adult dogs have served as guides on quail hunts at Otter Creek in Ohatchee & Selwood Farms in Childersburg & Wynfield Plantation in SW Ga as well as other preserves and some have hunted pheasant on pleasure trips mid west. We consider our dog's to be family members and they all receive lots of loving attention. Our adult dogs have a gentle temperament, are eager to please, some are good hunters and others are a little too spoiled. All of our Vizsla's are registered with AKC and each litter of pups is registered AKC. Pedigree's have Champions and HOF dogs. Our Braque Francais are registered NAVHDA . All Braque puppies are registered with NAVHDA. All puppies receive their 1st shot and several dewormings before leaving for new homes and come with a written health guarantee. Puppies have their tails docked and dewclaws removed. The puppies get plenty of exercise and are handled & talked to daily and have visits from our grandgirls and some of their friends. We take many precautions to insure that our puppies are healthy, happy and socialized and we try to make sure they end up in the hands of a caring responsible owner. We want you to rest assured that we would not knowingly sell a defective puppy. We ask our new owners to take their pet ownership responsibilities seriously. These breeds will be your life long companion. Puppies are usually ready for new homes at 7 weeks of age. If you cannot come to visit us in person to select a pup we can handle everything by phone and internet. For air shipping, you can book a flight here and we will meet you at the airport with your puppy, you can then get on a flight back home the same day... this is the only current method for air shipping. Please visit our website for other info. We are also on Facebook, under "Wingshot- Alabama, family & friends" . A few photos are also on Instagram (wingshot_ala). We enjoy having visitors come to meet us and our canine family.
Hunting Dog Breeds Raised
Braque Francais, Vizsla
Breeder Contact Info
Testimonials (6)
Submitted by: Paige Vaughn on Aug 01, 2022
Amazing! My male Braque Francais Rhone is the best dog I could have ever hoped for. He gets complimented everywhere we go on his looks and his temperament is just as amazing. Also, Anita and Jeff were so helpful and accommodating, driving 2 hours to meet me at the Atlanta airport for no extra cost.
Submitted by: Julie S Ford on Aug 01, 2022
Our Vizsla , Scout aka "Scouty Pouty" will be a year old in March. She is one of Grace and G.O.'s pups. So loving and intelligent! She's an awesome dog. Super smart and loving! She has made a great addition to our family! Thank you Wingshot Kennels, best dog ever! Julie Ford
Submitted by: Nancy Lee on Aug 01, 2022
We have Riley (Mingo x Ginger, 2012). Our Vizsla girl has been such an amazing part of our family these past 10 years. We cannot imagine life without her.
I am reaching out because we are contemplating adding a new Vizsla pup to our family. We think it will be so good for Riley and we just love the breed so much. She's always been a sweet, active, adventurous dog. We have a fenced in yard where she loves to run around for hours and loves to play fetch and chase squirrels and birds.
Submitted by: ROGER POOLE on Jun 12, 2022
Jeff & Anita of Wingshot produce some the most well bred Braque Francais and Vizslas for hunting and family companions. We have a female Braque Francais and she is perfect, great hunt drive and very sweet. We have many friends that have Vizslas or Braques all great dogs. We highly recommend Wingshot Kennels for Vizslas and Braque Francais.
Submitted by: J. Carlson on Aug 19, 2019
We've had our Eleanor for over a year now, a G.O. and Charlee pup. Eleanor is doing great! She is something else. Relaxed in the house with us but man does she have drive. She is still the chillest, but most easily excitable dog I've ever met. We can get her from napping to zoomies in about a half a second. She LOVES the camera, and the camera loves her. We will definitely be back for another pup in the near future.
Submitted by: Earl Bozeman on Mar 11, 2016
In January, 2015 I purchased a male Braque Francais from Wingshot Kennels. I had a superb experience from start to finish with Jeff and Anita Karnes. Their kennel is well kept and organized, the dogs are healthy and beautiful, and both Anita and Jeff are professional, courteous and extremely knowledgeable about the breeds they handle. My pup Jacque is now (3/11/16) 15 months old. I took him back to Jeff in December 2015 for a month of training, and got back an outstanding bird dog, given his age. Jacque is very adept at finding quail, pointing, holding point on whoa command (even holds point on his own for several minutes if I don't see him when he first goes on point), honoring other dogs' points, and retrieving downed birds. He has an excellent nose, and can find dead birds in thick cover even if he doesn't see the bird fall. I plan on taking him back to Jeff this Fall for some more training, so he will be steady to wing and shot. I strongly recommend Wingshot Kennels to anyone wanting a quality Braque Francais or Vizsla pup, or has a gun dog that needs training.
Submit your testimonial