Trail Dust Farms - Alabama English Cocker Spaniel Breeders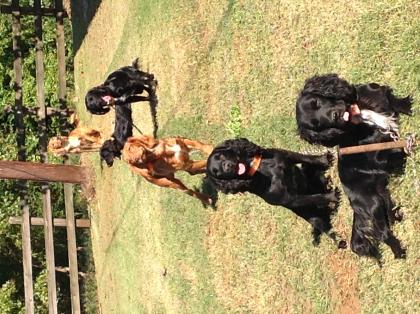 About Trail Dust Farms
Trail Dust Farms. The "Merry Cockers" hail from Europe and are known for their happy demeanor and explosive field performance. These compact flushers and retrievers are gamey in the field and relish the opportunity to retrieve your waterfowl.  We have carefully selected our stock from the best foundation pedigrees in the breed.  If you desire a field bred hunting companion  and a devoted family friend…you have found it!
Hunting Dog Breeds Raised
English Cocker Spaniel
Additional Services
Hunting
Breeder Contact Info
Testimonials (3)
Submitted by: kathy hatz on Dec 05, 2016
Brandy is now 3, she is the best dog we have ever owned. Loves people, other dogs, trains easily and if?? we were younger would have considered breeding this breed. WE live in California where most people have not seen this breed. WE have inquiries about her breed, temperament and all around good looks a lot.
Melanie was great to work with from our first inquiry to shipping Brandy to California.
on a scale of 1-10..............definately a 10
Submitted by: Kathy Hatz on Apr 18, 2014
Brandy is now 7 months old, she is easy, loves people and kids, trains well, and loves to be loved. What a great dog and breed.
Thanks Melanie
Submitted by: Kathy Hatz on Jan 20, 2014
After losing our dog, a field breed cocker at the age of 15 we decided to get a new pup. We are from Calif and there's not a lot of Field Breed Cockers here. Someone suggested going through Orvis which we did, as we fish at some of their lodges which are Orvis endorsed. That's where we met Melanie of Trail Dust Farms and she worked with me way before our pup was born. I asked for pick of the litter female, sent a deposit and visited the farm prior to having our pup shipped. I loved our whole enter action with Melanie. She was quick to respond to questions and was with me for 8 months before we took possesion of our new pup............ They have my total support.......
Submit your testimonial