Covey Flush Kennels - Alabama English Cocker Spaniel Breeders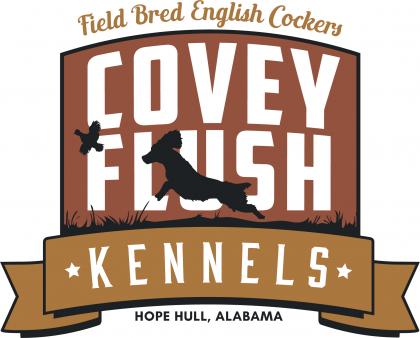 About Covey Flush Kennels
We strive to bring�the British legacy of fine gun dogs to Central Alabama. Where quality, not quantity is important. Our kennel is small, but what we do, we do right. � All of our dogs are�trained, excellent�gun dogs. Plantations in this area especially like to use them to work off their wagons in hunts. English cockers are very strong swimmers and enjoy retrieving geese, duck, and other upland waterfowel. In the field, their boundless energy helps them perform well retrieving pheasant, grouse, quail, chukar, and dove, to name a few. � If you'll go to our website, you can see our dogs, as well as view their pedigrees. Many of our dogs are imported, so you'll see their Kennel Club and AKC pedigrees. The Kennel Club pedigree shows all the British field trial champions in their backgrounds. The puppies are whelped in our home and are well-socialized. English cockers get along well with other animals, as well as small children. Many of our puppies go to homes where they become another member of the family, not to mention the best retriever they've ever owned! � This breed is amazing! They are so smart. Their eagerness to please makes them a pleasure to train. The�enthusiasm for cockers is�spreading fast.
Hunting Dog Breeds Raised
English Cocker Spaniel
Additional Services
Hunting, Training, Stud Services, Boarding
Breeder Contact Info
Our Pedigrees
Testimonials (3)
Submitted by: Claud Clark on Oct 15, 2013
Roux Roux is a bundle of energy and one heck of a flusher and retriever. But down time is sitting in the recliner with me. My buddy taught her to steal my socks. So I quit wearing them.
Submitted by: Traci Hildreth on Nov 16, 2009
We got our English Cocker from Christopher May 2008 and this dog is the best most personable dog I have ever had. I have had Standard Poodles and Labs- and wouldn't trade Huck for any of them. So smart and was easy to train. The only problem we have is he wants to hunt ALL the time, even in our back yard. He goes crazy if you mention squarrels and he has chased down one or two!!
Submitted by: paul smith on Oct 09, 2008
Bought male english cocker in 2006 from Christoper Loizou from covey rise kennels - liver male with white spot on chest- has been an exceptional dog - natural retriever- exceptional family dog - I guide at goshia creek and in hondo at geronimo creek customers are constantly wanting to buy my dog - poncho is not for sell - christopher breeds exceptional dogs anyone would be proud to own as far as my experince with his english cockers. good job christopher - thanks for the dog.
Submit your testimonial