Cornerstone Retrievers and Gun Dog Academy - Alabama Labrador Retriever Breeders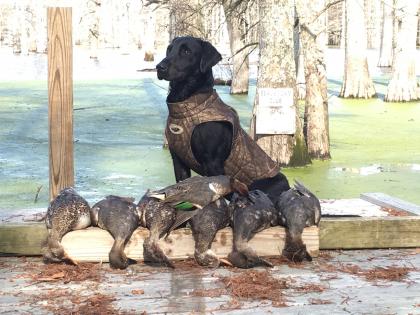 About Cornerstone Retrievers and Gun Dog Academy
We are a father and son team breeding and training some of the best Labrador Retrievers in the world. We select excellent quality and proven hunting/shooting/field trial stock from the England, Scotland and Ireland. Our breedings are put together with the hunt in mind but we do consider the desire of most of our clients that want a dog to be a part of the family as well. We offer Custom Training for our clients based upon the type of hunting and lifestyle they have so we can ensure ultimate satisfaction for years to come. Our passion is teaching our clients how to train their own dog. We believe many gun dog owners would benefit from developing their own dog. Through coaching and videos we provide the knowledge and experience for you to have success with your retriever. Please do contact us if you want to discuss your future gun dog or want to ask about our coaching or training programs. We also offer full and part trained gun dogs.
Hunting Dog Breeds Raised
Labrador Retriever
Additional Services
Hunting, Fishing, Lodging, Meals, Training, Stud Services
Breeder Contact Info
Testimonials (3)
Submitted by: Ethan Molloy on Jul 09, 2016
I received not just a pet but a best friend in avian from cornerstone! Since day one avian has been brilliant and full of energy with a high drive. Cornerstone retrievers is a wonderful father son combo, they will work with you In any way they can; with an understanding. I received avian back from training and she hasn't skipped a beat I love the work and efforts put into not only my dog but everyone's! Highly suggest this group of dogs, and men!
Thanks for everything
Submitted by: Kade Haas on Jul 08, 2016
Were do I start... Cornerstone Retrievers are the best and I mean the two legged and four legged members of the Parvin family. Keith and Josh make it a painless process from the initial conversation before the puppies are born all the way through finishing, in my opinion, the best British gun dogs in the country. I have had the pleasure of working with these two gentlemen with my dog Slash and the knowledge and God given ability that Josh has with the dogs is down right impressive. I dare anyone to find such well bred dogs from "across the pond" AND get the service and genuine care that Keith and Josh show the animals as well as the owners. First class family and first class British gun dogs.
Submitted by: Brad Wiggs on Jun 15, 2016
Cornerstone Retrievers has hands down the best customer service anyone could ask for. From choosing our puppy "Kimber" at 7 weeks to developing a training plan that met my needs and expectaions, my family has been extremely satisfied. Kimber is now 10 months old and we area anxiously waiting for this hunting season to arrive. You can buy a puppy anywhere, but if you are lookng for proven bloodlines, training programs custom to your hunting situations, and an impeccable customer relationship Cornerstone Retrievers is second to none.
Submit your testimonial