Chet's Boykins - Alabama Boykin Spaniel Breeders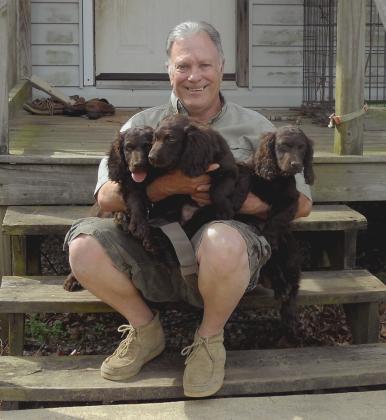 About Chet's Boykins
Started registered three month old
Boykin
Spaniel Puppies from an excellent pedigree. They are all very intelligent and learning commands quickly. Positive gun dog methods are being used in their training. They are sitting on command, retrieving bumpers, dead quail and recalling to whistle commands. Only three puppies left for the lucky person. Potential buyers must be prepared for a wonderful addition to their family and or hunting companion. All vaccinations are current and tails docked and dew claws removed. These puppies will be ready to hunt this up coming Dove Season! For a video and or additional pictures call Chet Ray at 205-544-8713.
To view a video of the puppies copy and paste the following in your browser:
https://www.youtube.com/watch?v=zCWlcvWkQzk&t=236s
Hunting Dog Breeds Raised
Boykin Spaniel
Additional Services
Training
Breeder Contact Info
Testimonials (2)
Submitted by: Bob Hall on Aug 18, 2018
My son and I began looking for a Boykin female in February of 2016 and discovered Chet's Boykin Spaniels. We got our Dixie sight unseen and couldn't be more pleased with her. She's probably the smartest dog alive. (A little biased maybe). If you are looking for a great companion and hunter you won't go wrong getting a pup from Chet.
Submitted by: Dr. Dale Hubbard, Ph.D. on Mar 28, 2017
I have known Chet Ray for several years. I am a trainer have had the pleasure to train several of his Boykin Spaniels. I found his dogs to be very intelligent and easy trained.
Submit your testimonial