Briddle Creek Short Hair - Alabama German Shorthaired Pointer Breeders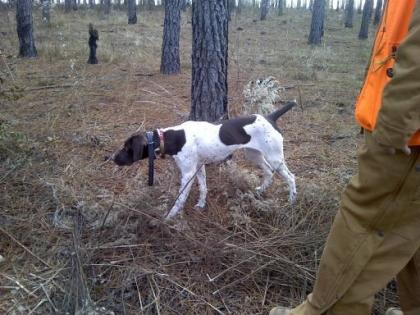 About Briddle Creek Short Hair
I strive to produce the best quality that I can, with an emphasis on Quality not quantity. Features that I strive to produce are Solid Liver heads, high tails, excellent noses but most of all intelligence. All pups are guaranteed to be natural bird dogs. I will strive to give you the best product for your dollar. I hope you enjoy your new companion and great hunting.
Hunting Dog Breeds Raised
German Shorthaired Pointer
Breeder Contact Info
Testimonials (4)
Submitted by: Brandie Jones on Feb 09, 2015
I have never owned a bird dog until I purchased a puppy from Rodney a little over a year ago. And I have fallen in love with this breed. Luke lives for putting his nose in a bush. His temperament is great and all around an awesome dog. Whenever I take him out, I get nothing but compliments on how beautiful he is. Will definitely get another puppy from Briddle Creek.
Submitted by: jack peterson on Sep 06, 2013
Otto will be a year old this month. I've had numerous pointers - Visla's, English and GSP's. Otto's at the top - smart, fun to be with, big, big personality, a nose that is crazy good, and an incredible athlete. Rodney has a great set-up and knows his dogs.
Submitted by: Ethan Bradshaw on Feb 11, 2013
I bought a female GSP from these fellas in November of 2012, she is about 5 months old, and she has been pointing birds since 4 months of age.. When they say they breed bird pointing instinct, and intelligence they are not kidding! I will post again when she is finished, but right now I am really impressed with her, and would like to thank Briddle Creek for a great dog!
Submitted by: John T Sims on Jun 04, 2011
Great temperament, great with kids, beautiful liver and white,crazy about birds
Submit your testimonial