Absinthe Gundogs - Alabama German Wirehaired Pointer, Labrador Retriever Breeders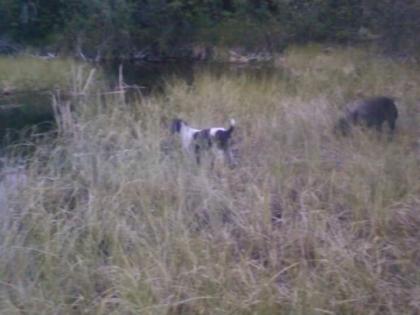 About Absinthe Gundogs
We work Labrador retrievers and German Wirehaired Pointers in natural hunting situations as well as competing in Hunting Retriever and Pointing Tests. We Test through AKC/ UKC/ NAHRA and NAVHDA and Train for the ultimate Hunting Companion.
Our Labradors are Highly intelligent, Hard working dogs with a desire to retrieve over anything else. they come from Field champion Lines as well as show champion, making form as good as function.

Our Wirehairs are intelligent hunting dogs made for the foot hunter. we focus on all aspects of the HPR breed, they excel at pointing, and retrieving. our GWP's also come from hunting and show lines, with many FC, and CH in their background .
We breed only once or twice a year, so if you are interested in a puppy please let me know. and I can put you on a waiting list. We do require a deposit of $150.00 after Verification of pregnancy. If you are on a waiting list you will receive an e-mail When we have an upcoming litter. Whatever order deposits are received is the order of pick of puppy.
Spring training has begun, and we are looking forward to many accomplishments this year.

We Currently have a GWP litter on the ground! Born 3/21/2016 We have 5 Males and 1 Female.

Our Puppies Have:
Lifetime Genetic Defect Guarantee
Recieved BioSensor Stimulation
Been Raised around Children
Been Raised in a Home Environment
Been started On birds at 4 weeks Old
We Will Ship anywhere in the US and Canada
Please Feel Free to contact Me for information about the German Wirehaired Pointer Breed Or Labrador Retriever Breed as well as information about puppies, or The wonderful sport of hunting.
Hunting Dog Breeds Raised
German Wirehaired Pointer, Labrador Retriever
Additional Services
Training, Stud Services, Boarding
Breeder Contact Info
Testimonials (2)
Submitted by: Regina Felangie on Aug 31, 2010
I found Nicole to be very helpful with regard to answering all my questions. She has a beautiful lab that has outstanding hunt capabilities. I was only searching for a family pet, but came out of the experience learning a lot about my bread. I speak with her regularly and she has helped my family and I to have a beautiful pet and friend through our lab Lola
Submitted by: Shanon Emerick on Jun 25, 2010
Nicole Is Great, Very Helpful with choosing a puppy even though the puppy I ended up getting was not from her breeding, she is still very helpful in steering me in the right Direction with Hunt Training and show training.
I will Definatly be getting one of her puppies later on. Her Liver Bitch is Gorgeous, and has a good steady temperament. I can't wait to see what she produces.
She is a very helpful person and if you have any questions about both her breeds she is the person to ask.
Shanon Emerick
Currington Kennels
Submit your testimonial