3M Kennels GSP and English Springers - Alabama English Springer Spaniel, German Shorthaired Pointer Breeders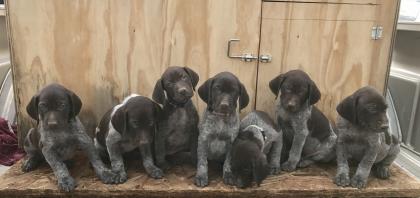 About 3M Kennels GSP and English Springers
We are small kennel that prides itself in quality rather than quantity...My goal, is to raise only the best possible German Shorthair Pointers for individuals that want to purchase as a hunting companion or just to have as a family pet. We will periodically have and raise Full blood AKC registered pups. Pups will have tails docked, dewclaws removed, vaccinated and first dose of de wormer administered. Nico, my Stud dog is fully trained and has championship bloodline. To contact me it is best call or text cell phone - 256-709-1305.
Hunting Dog Breeds Raised
English Springer Spaniel, German Shorthaired Pointer
Additional Services
Stud Services
Breeder Contact Info
Testimonials (6)
Submitted by: Jennifer Fick on Apr 08, 2018
Luke was great to work with and really loves all of his pups. He was so nice and he kept us updated with texts and photos. He also was very accommodating with the pick up because we live in Kentucky and had to drive so we were able to select a pick up place that worked for both of us. The whole experience was great. When we decide to get another one we will definitely go through him. I will be posting a review on his Facebook page with pictures of Kevin, our newest addition to our family.
Submitted by: Kelly on Nov 28, 2016
Excellent! We spoke with Luke before our pup was even born (5/28/16) and he was very patient and frequently communicated with us and answered any questions we had. He does a wonderful, responsible job of breeding GSPs, and he's very passionate about taking good care of the dogs and puppies. Our male is absolutely beautiful, and when we are ready for another GSP we will definitely be getting it from Luke!
Submitted by: Dhurata Dobbins on Oct 30, 2016
Lucas is great breeder and you can see that he takes a great care of his dogs. He was very patient with us and very understanding, we got our puppy in July 2016, he was the 5/28 litter. We visited many times between choosing our boy and taking him home. Lukas was always welcoming which made us feel at ease. We do visit them every now and than, I am pretty sure we will go back when we decide to get our boy a sister 😊.
Submitted by: deborah on Sep 07, 2016
Lucas is a wonderful breeder who cares about top quality breeding and have his pups go home with a loving owner which really won me over to purchase a GSP from him. He was very patient with me and my daughter while we picked out the perfect dog that had personality and good looks! You couldn't find a better breeder and GSP. You wont go wrong by doing business with him. We are so happy with the puppy we purchased.
Submitted by: Tray on Aug 28, 2016
You can tell he cares about his dogs and puppies. I went and got Jack yesterday after visiting the pups twice before. Luke really cares about his dogs and it shows in his pups.
Submitted by: Stuart on Dec 19, 2015
This is a beautiful litter of good hunting stock. No bad choice in the bunch. I was looking for a solid but fell in love with the Roan. Molly, the mom is great. Lucas is very easy to work with and makes it easy helping you pick your choice. Born Thanksgiving Day which is special, We are excited about bringing my new hunting partner home in January.
Submit your testimonial