Rooster Valley Pheasants - Utah Chukar Hunting, Dove Hunting, Duck Hunting, Pheasant Hunting Preserves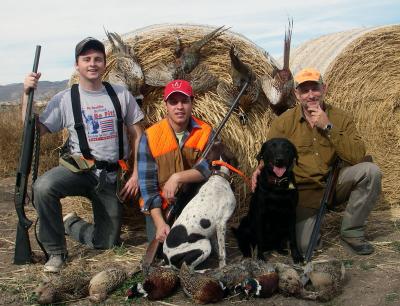 About Rooster Valley Pheasants
Rooster Valley Pheasants has been providing quality pheasant hunting in Utah since 1990. The preserve is located on the Sevier River and takes in over 100 acres of land. The terrain varies from fields of grain and alfalfa to river bottoms and rolling sage brush hills. We raise our own birds from day old chicks and have extensive flight pens to ensure healthy strong-flying birds. Our guests can enjoy pheasant hunting seven months out of the year. Chukar partridge, dove, quail and duck hunting is also available as well as private land mule deer hunts.

Rooster Valley has been using german shorthair pointers as guide dogs for nearly two decades. German Shorthair puppies and started hunting dogs are available to our members.

Bird Hunting Available
Chukar Hunting
Dove Hunting
Duck Hunting
Pheasant Hunting
Rooster Valley Pheasants Contact Info
Testimonials (1)
Submitted by: J. Lee on Oct 23, 2008

I work as a guide at Rooster Valley. Me and my dog "Abby" would love to have you come and hunt pheasants with us. We are only 4-5 hours north of Las Vegas, NV and less than 3 hours south of Salt Lake City, Utah. We will do our best to see that you have great hunt.
---