Lankas Labs - Kansas Chukar Hunting, Pheasant Hunting, Quail Hunting Preserves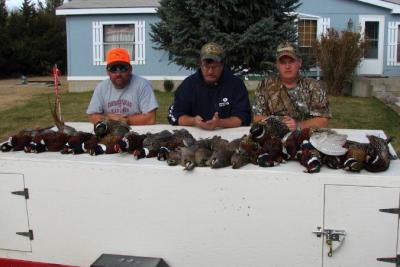 About Lankas Labs
Lakas Labs is offering Native (Wild bird) hunts. With last years population and this spring moisture we are expecting tremendous numbers (they say the best in 20yrs) of both Pheasants and Quail along with some great cover. We also have chukars available to hunt. Since it is all Native we have only limited slots available. Season runs from the first weekend of Nov. thru Jan. 31st....Opening weekend, Thanksgiving and Christmas is always reserved for our family hunts. My uncle owns and leases acre after acre giving us excess to: wheat stubble, milo and corn fileds, draws, thickets, CRP grass.....
Cost is $150 per day, per gun....Atwood has 2 motels and several bed and breakfest homes.
You can bring you own dogs and/or hunt behind some of ours, or bring back a pup that you had purchased from us.
the bag limit is 4 Rooster and 8 Quail....we just use the group number...yes I count for 4 and my father who drives blockers around counts...so that is 8 more pheasants and 16 quail you can get!!!
Bird Hunting Available
Chukar Hunting
Pheasant Hunting
Quail Hunting
Lankas Labs Contact Info
Testimonials (0)
No testimonials for this hunting preserve