Colonial Farms Gamebird Preserve/Field Dog Trainin - Michigan Chukar Hunting, Pheasant Hunting Preserves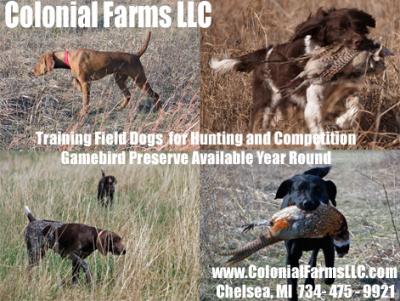 About Colonial Farms Gamebird Preserve/Field Dog Trainin
We invite you to come visit Colonial Farms Gamebird Preserve and see what we have to offer!
Since our Grand opening in 2005 we have been improving our land and services just for "YOU"
"You won't know what you are missing until you come to see for yourself."
No Membership or Gun Fees
Minors (under 18) or walkers are FREE
Extra birds are FREE
Private 100 acres all for YOU (only 1 hunt or training lesson at a time - COMPLETELY PRIVATE!)
UNIQUE terrain: rolling (not flat) upland prairie fields with thickets, ponds, swamps, woods and stream
Light refreshments and water are provided with hunts
Rustic clubhouse and outhouse for your convenience
Conveniently located in Chelsea, MI - less than an hour from the Detroit and Lansing metro areas
YEAR-ROUND live birds for your dog training and/or hunting needs - 7 days a week
Pheasant, Hungarian Partridge, Chukar, Quail and Pigeon are seasonally available
Guided hunts and bird cleaning are available upon request (advance notice required)
Private Field Training Lessons for your gundog - we help you to make them exactly what you desire
Gift Certificates are available for that future special occasion
Corporate Hunts are always welcome
Please visit our website for more detailed information about all of our services and their prices.
We look forward to serving your hunting and/or dog training needs. If you are not completely satisfied with our services, please let us know - we will do everything possible to make it right - that is our goal - a very satisfied customer.
Blessings,


Bill and Vicki Murdock

ColonialFarmsLLC.com

Colonial Farms, LLC
Gamebird Preserve
German Shorthaired Pointers
Field Dog Training

"Come to where the fun times, good birds, and great dogs are waiting for YOU!"
Bird Hunting Available
Chukar Hunting
Pheasant Hunting
Colonial Farms Gamebird Preserve/Field Dog Trainin Contact Info
Testimonials (0)
No testimonials for this hunting preserve