Radbach Kennels - Washington German Shorthaired Pointer Breeders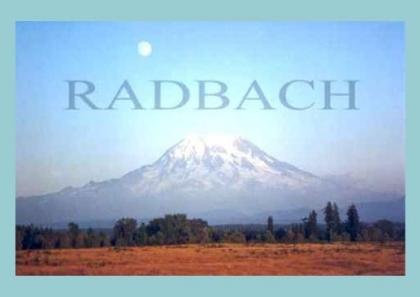 About Radbach Kennels
Taking reservations for 2013 litter June 2013!
Bob Holcomb, the founder of Radbach kennel in USA, started his important contributions to the German Shorthaired Pointer world while he was serving in the U.S. Army, stationed in Germany, at the end of World War II. While serving in the occupation forces he was exposed to his first German Shorthaired Pointers. The impact these dogs made on Bob guided the rest of his life. In the late 1950's Bob returned to Germany with the U.S. Army and greatly increased his involvement with German Shorthaired Pointers. His primary contact was with Mr. Ernst Bleckmann, owner of the original von dem RADBACH kennels. Bob lived at the kennel and studied under the head trainers/game stewards on the Bleckmann estate. Bob was one of the very few Americans that became respected enough to be asked to judge field trials in Germany. From these experiences, Bob watched and picked many great dogs to be sent to America, several of these have been named into the G.S.P.C. of America "Hall of Fame".
If Bob Holcomb hadn't developed this true love of German Shorthaired Pointers, while under the tutelage of German masters, the breed surely wouldn't be the same today. The current "Dog of the Year" trophy, awarded by the Northwest Field Trial Council, is given as a memorial to Bob's accomplishments during his life. Donations for the trophy were received from clients and friends from across the country.
Hunting Dog Breeds Raised
German Shorthaired Pointer
Additional Services
Stud Services
Breeder Contact Info
Testimonials (1)
Submitted by: Radbach Kennel on Oct 26, 2012
Solid liver male, Greif/Radbach. Whelped 3/30/2005. Need qualified home.
Submit your testimonial