Browns Point Brittanys - Washington American Brittany Breeders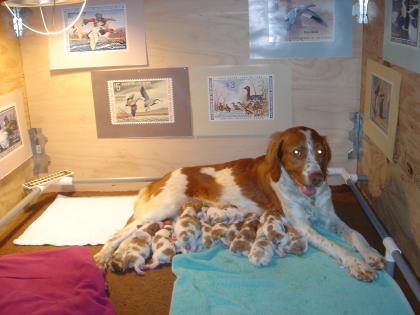 About Browns Point Brittanys
Browns Point Brittany's is committed to breeding top quality dogs that are healthy with OFA certification. The characteristics we look for and develop are high energy and determination to "find the bird" through exceptional Field Trial/Master Hunter bloodlines, well socialized and a sweet disposition. Our pups are engaging, playful, and inquisitive and will be a valuable member of your family both in the field and at home. Not only are our dogs pretty, a glossy bright orange and white, they are all heart in the field swimming for ducks to climbing mountains for grouse, and everything in between.
Hunting Dog Breeds Raised
American Brittany
Breeder Contact Info
Testimonials (1)
Submitted by: Steve Padel on Oct 25, 2013
I found this breeder to be uncomprimising in the care and raising of the litters. Pups were socialized from a very early age, cared for and attended around the clock. When we received our "Beau" we had a pup that we could manage and care for and move him into the next stages of his life. No problem trimming nails, bathing, brushing teeth, he was so used to being handled it was all so easy. Beau is also a wonderful companion, gentle with our cat. For those hunters, he is birdie, nose to the ground and was retreiving a at 11 weeks (a week after we brought him home, strong hunting instinct and prey drive. We have been able to maintain contact with the breeder and feel we were very lucky to find such caring people to start our best friends new life.
Submit your testimonial