Robersons Retrievers - Texas Labrador Retriever Breeders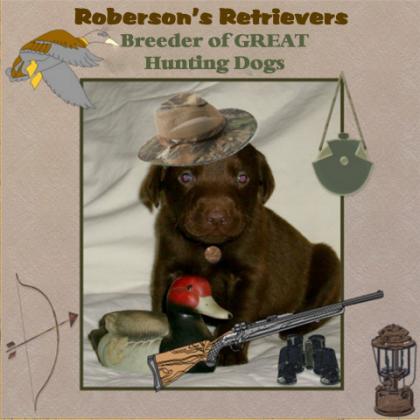 About Robersons Retrievers
Located in the beautiful piney woods of east Texas, I have been raising English and American labs for more than 6 years now. I usually have 6 or 7 litters of yellow, black, white, fox red, chocolate, silver and charcoal pups each year. All of my dogs are well cared for and extremely loved members of my family. My females are retired and spayed around 5 years of age and most of them remain well loved members of our family for the rest of their lives. My dogs are all current on shots and wormings and they are all on monthly heartworm preventative. They get plenty of exercise and daily attention. They all love to swim in the creek that runs across our 5 acres.
As all responsible Labrador breeders, I try to place each of my Labrador puppies with loving families as pets, companions and family members. While I do offer full AKC to approved families and breeders, most of my pups are sold with limited AKC registration so that I can keep my prices low enough for EVERYONE to be able to afford to add a quality Labrador Retriever to their family. I think if you do not intend to breed or show then there is no reason for you to pay for full registration. All litters of retrievers I produce are born and raised inside my home where each of the puppies will receive the care and all the attention they need to be happy and well-adjusted when I send them home with their new family. My two kids and I spend time with the pups everyday so they are very well socialized. Each pup is also socialized with other dogs and cats. All my pups come with a 26 month hip and eye guarantee and an 18 month guarantee against genetic defects. All shots and wormings are current and their dewclaws are removed.

I get wonderful reports from the families that buy my pups. I get lots of pictures and many families refer their friends to my kennel mostly because my dogs are beautiful, calm and easy to train. My kennel has produced show dogs, search and rescue dogs, registered companion / seeing eye dogs and even a few that were trained to trail the blood of a dear, but mostly I produce fantastic water fowl hunting partners that have a high drive to retrieve and are well loved lifetime family companions. ABOVE ALL ELSE I stand behind every pup that leaves me kennel. I am ALWAYS willing to kindly answer any and all questions that my buyers may have. Anyone that breeds responsibly knows that just because a pup is placed with a family that their commitment does not end there. I try to stay in touch with most of the families who adopt one of my puppies. I love keeping track of the babies plus it helps me in my breeding program to follow the puppies progress.
STUD SERVICE IS ALSO AVAILABLE. Click here to see pictures of potential studs.
Hunting Dog Breeds Raised
Labrador Retriever
Additional Services
Stud Services, Boarding
Breeder Contact Info
Testimonials (0)