vom Millerhaus - Pennsylvania Deutsch Drahthaar Breeders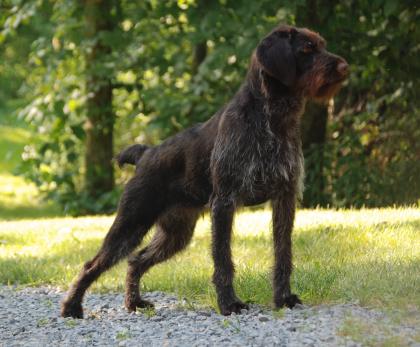 About vom Millerhaus
Our goal is to breed performance to standard and provide serious hunting dogs to serious hunters, dogs that can retrieve geese in the morning and point grouse in the afternoon. We like medium sized, athletic dogs, that are independent yet cooperative. We also expect these dogs to be excellent trackers and retrievers of game such that a bow hunter could easily train his DD to track wounded deer. It has always been a priority of the VDD and breed enthusiasts that the DD be particularly strong in the recovery of shot game. I train and test our dogs, Our dogs are Hip dysplasia free and Type II vWD clear. Owner William Miller
Hunting Dog Breeds Raised
Deutsch Drahthaar
Additional Services
Training, Stud Services
Breeder Contact Info
Testimonials (2)
Submitted by: Robert Frisch on Mar 24, 2011
This is my fifth DD and the first from William Miller's vom Millerhaus kennel. As usual, this dog is as advertised; loving, friendly ( sometimes too much for visitors!),aggressive in the field,extremely intent on the search, responsive to commands (hunting for the hunter),and becoming a more staunch pointer and eager retriever, land and water, with each hunt - October woodcock in NY, grouse in MN, and pheasant in SD, plus late season pheasant joints. As a bonus, she is a great house dog after the initial break-in and my wife loves and spoils her. I thank William for giving "Evi" up to me.
Submitted by: Kyle Baumgardner on Oct 08, 2010
William has great breeding stock. I can say this with utmost honesty because my Father and I own two dogs from his kennel. Our first dog is from the "D" litter and has tremendous drive. He has a great nose and tracking ability, loves to search and has a stylish point. He's a monster in the water too! The "F" litter pup is 5 months old and already has an awesome point. I expect him to be as fast as his older brother in the water. Both dogs are pups from Hasso and Ella and have great coats. I suggest to anyone looking at getting a Drahthaar to contact William Miller. You won't be disappointed with the innate abilities of a vom Millerhaus dog.
Submit your testimonial