Lamborns Labradors - Pennsylvania Labrador Retriever Breeders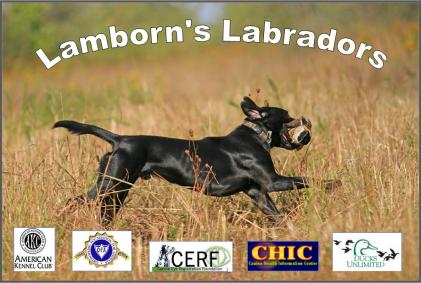 About Lamborns Labradors
Pups Available!!
View Website for all info !
Our philosophy is that the Labrador is like a square; each dog must possess the elements which make up the square: temperament, soundness, function and beauty. Without any one of these elements the dog would not be America's most popular dog- the Labrador!
 

Our Mission is to produce a Labrador Retriever puppy that will become a dog that can sleep on your bed, spend the day on your couch and then be awesome in the field. We breed our Labrador Retrievers for citizenship around the home or camp, Then be very stylish in the field.
"He is your friend, your partner, your defender, your dog. You are his life, his love, his leader.
He will be yours, faithful and true, to the last beat of his heart.
You owe it to him to be worthy of such devotion."
Hunting Dog Breeds Raised
Labrador Retriever
Additional Services
Stud Services
Breeder Contact Info
Puppies for sale
Testimonials (0)