Boney's Oni kennel - Pennsylvania Spinone Italiano Breeders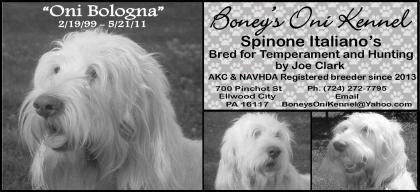 About Boney's Oni kennel
Hi Welcome to my Breeder Information page, First and foremost I do not like electronic communication, If your truly interested in adopting one of my babies please just call me for information first. 724-272-7795. I run a very small personal kennel in my Western PA home, My puppies are whelped in my living room and stay there until they are released to there new families. All puppies are handled and loved by all who visit my home so when they leave on the 8th week, they are fully socialized and mostly house broken, the amount of love they receive in my home is second to none,
   If you are considering adopting a puppy from me, please understand I like to meet my parents before considering any of my puppies for adoption, so Please call me if you want information Email is ok to introduce your self but I will reply with a phone number for you to call me. adopting my pups means becoming a part of my family. thank you for taking the time to visit my section

Joe Clark

Hunting Dog Breeds Raised
Spinone Italiano
Breeder Contact Info
Testimonials (4)
Submitted by: Beth Distefano on Oct 22, 2017
My husband was diagnosed with a brain tumor in 2014 and had a reoccurrance in 2016 which left him home with our labradoodle as he could no longer work; he was my husband's buddy until he recently passed due to heart cancer. My husband was devastated as he lost his friend.
Later that week, we took a chance and called Boney's Oni Kennel and it was the best chance that we have taken in a long time. Joe couldn't have been any nicer to my husband when they first talked on the phone-as if he were a long, lost friend! We were in luck that Joe had one little boy puppy left out of the litter. Joe took the time to constantly keep us updated, sending pictures of our little pup and his brother and sisters as well! He invited us to meet the litter and even offered to pick us up from the airport had we chosen to take that route!
Long story made short, we know we made the right decision with Boney's Oni Kennel. We picked up our puppy at eight weeks and he was already crate trained, microchipped and had his first set of shots.
Just because we picked up our puppy does not mean that we are no longer in contact with Boney's Oni Kennel. We continue to send Joe pictures and he is readily available if we have any questions.
I know that I speak for my husband as I say, "Thank you," to Joe and everyone involved with the raising of this litter. My husband has a new buddy to love and I hope our new puppy loves him just as much.
Submitted by: The Greenan Family on Oct 16, 2017
We just cannot say enough good things about Joe and the beautiful puppy we received from him. The whole process was a complete pleasure - from our initial meeting with Joe and the litter to choose our puppy (Gibbs) to receiving daily text updates with pictures and videos and finally to bringing the puppy home - Joe's professionalism, experienced approach to training, and warmth toward his customers and his dogs make his kennel the best! We even drove 10 hours in one day to pay an extra visit to Gibbs and her siblings - Joe welcomed us with open arms and great coffee. Our puppy, at 8 weeks, knows her name, is happy, playful, healthy, and house-broken. Highest marks for Joe and Boney's Oni Kennel!
Submitted by: Haley Cavotta on Dec 10, 2014
Boney's Oni Kennel has provided our new puppy with a true fireside/hearth reared experience. The environment was ideal for the puppies with plenty of exposure to people, animals, smells and sounds, a very large yard with woods to explore, and a loving home presence. Joe Clark kept us updated with pictures and videos as the puppies grew and welcomed us for multiple visits during our puppy's first 8 weeks. Professional and dedicated to the breed. A GREAT experience.
Submitted by: Jason Spear on Feb 28, 2014
We have our puppy and i must say Joe is very delightful to work with during the puppy process. I would reccomend his Spinone pups to my closest friends. we are very pleased.
Submit your testimonial