Lazy Star Brittanys - Oregon American Brittany Breeders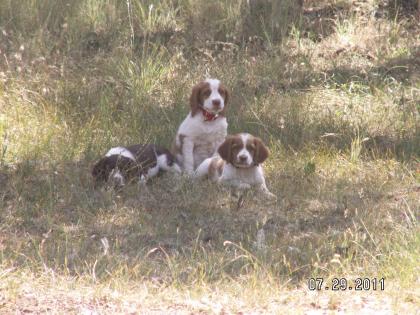 About Lazy Star Brittanys
LazyStar was founded to raise American Brittany's that are great Hunting, Show Dogs and Companions. We were founded in 2011 as an off shoot of Treasure Keepers Brittany's. Star was born in 2005 and was originally sold as a pet. At 9 months old when the people that bought her could not keep her, Jim and Karyn bought her back. The following month at her 1st show she won a 2pt show in Vancouver. That night she curled up in Jim's lap. Karyn said "I guess we are keeping her". Since then she has earned her Championship in the show ring and has welped 3 litters of pups. We have kept 1 from her second and third litters. You can follow ChaCha and Sunshine on our facebook page: www.facebook.com/LazyStarBrattanys.
LazyStar currently has a senior dog available to a good home that can show him the love deserves. Visit Charlie on facebook. Sorry to say Charlie has now passed over the Rainbow bridge where birds are plentiful.
Congratulations!! Chacha has now finished her Grand Championship with a Best in Breed over 9 other specials and 6 class dogs. She is now GCh TK's Rogue River Dancer.  
Lazy Star has started to do monthly Bird Dog training again. 1 time each month we go to Denman wildlife area in White City Oregon and practice hunt training using pigeons and quail. All are welcome to come out and join us. There is no charge for this, just fun. Usually last about 2-3 hours depending how hot it and how many dogs show up. You can find dates and times on Facebook.
LazyStar's Hard Core Hunter - Otis is on his way toward finishing his Championship in the show ring. He has completed both is majors and in only in need of 2 point to finish.
LazyStar would like to announce the arrival of our 2015 litter. 10 happy, 5 Liver girls, 2 orange girls, 2 liver boys, & 1 orange boy. All healthy, wonderful puppies born June 27. There are some boys and girls still available. Contact us with your e-mail address and we will send you a puppy application. 
LazyStar Brittanys announcement - All the puppies have gone to their new home except 1.  1 Female pup will be going to the Hearts with a Mission annual fundraiser to be auctioned off. All Proceeds go to support the Hearts with a Mission in Medford Oregon. There will be many items for purchase through live and silent auction.
LazyStar Brittanys Announcement - LazyStar's Hard Core Hunter (Otis) has finished his requirements to be awarded confirmation championship by AKC. He is now CH LazyStar's Hard Core Hunter. Congratulations OTIS. Thank you to Marilyn Williams how has help show him to his Championship. Otis is our 3rd Generation of Champions on site that we have bred.
Hunting Dog Breeds Raised
American Brittany
Additional Services
Stud Services
Breeder Contact Info
Our Pedigrees
Testimonials (2)
Submitted by: Lorraine on Jun 05, 2014
I've gotta say, we may have one of the best puppies from Lazy Star! I've had Arrow now for almost 9 months now and have been waiting to write a review so I could see what her personality was like. I don't have one bad thing to say about her. She is so smart (she's learned to herd our chickens back into their coop every night!), LOVES kids, is quick to please and such a sweet dog. Anytime we are out for a walk, people stop us just to say how pretty she is. I'll definitely recommend going through Lazy Star for anyone looking for a Brittany. Thank you SO much, Jim and Karyn!
Submitted by: Tracy and Dave Eisenberg on Aug 22, 2013
Our Brittany, Dover, is Chacha's liter mate. Dover is the best dog we have ever had. She is very smart and willing to please, and she is absolutely beautiful. We get compliments every time we take her out and about. Jim and Karyn are dedicated to breeding and raising top quality Brittanys. We would not hesitate to adopt another dog from Jim and Karyn and when we are ready for our next Brittany we will go to Lazy Star Brittanys first.
Submit your testimonial