Hi-Point Kennels - Ohio German Shorthaired Pointer Breeders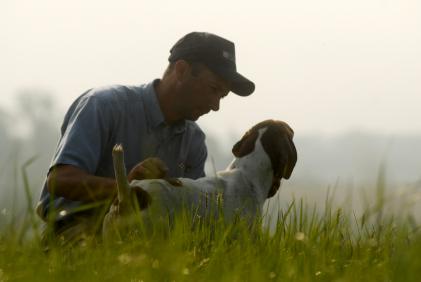 About Hi-Point Kennels
Full Service Boarding and Training Facility. We specialize in sporting breeds. AKC Hunt Tests, Field Trials, NAVHDA Preporation, Shooting Dogs, NASTRA, etc. & Creating Personal Hunting Companions. Head Trainer: Christopher Goegan who began his career by attending Mount Union Collage with a major in Early Childhood Development / Developmental Psychology and being picked up by SeaWorld of Ohio training Killer Whales and other marine mamals. Chris worked for SeaWorld until their departure from Ohio and by that time Chris had all ready begun his dog training career on the side. With a full kennel up and running Chris declined to go to Florida with Sea World. Chris has never looked back and has been a full time dog trainer ever since achieving multiple Field Champion titles, National Field Champions, Futurity Winners, Master Hunters, and American Field Champions, with numerouse dogs year after year. Including 2010 NGSPA All Age Dog of The Year, Winning Nationals in 2011 Both AKC and AF. Offering monthly and private training sessions starting at $25 + birds per session. Call today to set up your appointment for a free evaluation. 330-206-2555 or visit our website @ www.hipointkennels.com
Hunting Dog Breeds Raised
German Shorthaired Pointer
Additional Services
Training, Stud Services, Vet, Boarding, Birds for sale
Breeder Contact Info
Testimonials (2)
Submitted by: Will Dies on Jul 12, 2015
Chris took my 6 month old vizsla from a hunt curious dog to a unified purpose hunting machine! Koopa actually taught me how to hunt quail! All I had to do was follow her as she fervently attacked the field. When she found her quarry she locked down until I caught up to her. Chris not only taught her how to hunt but the experience,I feel, super charged her nose. She finds 3 of 3 sheds when we go for walks now. Koopa enjoyed her time working with Chris and will definitely be getting more training with him. Highly recommend the professional training at Hi point kennel.
Submitted by: Chuck on Jun 30, 2011
Chris started training our Gordon Setters pups at 6 months, both males. He is very knowledgeable and can read the dog. He picked out the best skills in each dog and we are very happy about the direction he is using to train them - one in field trial and the other for junior hunter, senior hunter, then master hunter. We will also do NAVHDA with the gun dog. I recommend him highly!
Submit your testimonial