Blazing Red Kennels - Ohio Labrador Retriever Breeders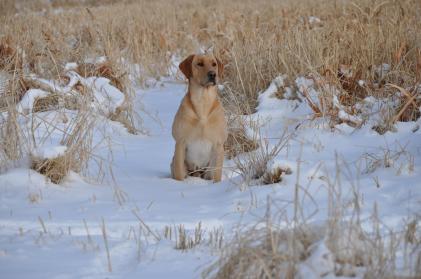 About Blazing Red Kennels
Blazing Red Kennels is a Small working Kennel in Northwest Ohio Our goal is to Produce the best Hunting and Hunt test Retirever you can find with great looks to go with it. We have taken some of the Best English Champion lines and the Best Field Trial lines and Crossed them to make working dogs with the Tons of drive and a calm demeanor Plus great looks. Our puppies come from Parents that areGHRCH, HRCH, UH and MH, QAA Proven in the Hunting Field as Well.
We offer training program to match you and your dogs needs. we offer a Basic thru advanced Program For Retirevers and a Complete Upland Program. We can take Pointing Labs and turn them into Solid Pointing hunting or Hunt test Partners. Let us Match a program to fit your needs. We only take 6 dogs into train at a time so we can give the individual training time that each dog needs.
We only Produce 1 or 2 litter a year. We also produce some of the Finest looking Fox Red Labradors
We Stand at stud GHRCH UH BLACKPOWDER'S BLAZING RED FLAME MH QAA he is a son of our founding sire HRCH UH CPR TREDDOLPHIN BLAZING RED SH all Flame and Blaze's Information is on our Web site. www.blazingredkennels.com
Hunting Dog Breeds Raised
Labrador Retriever
Additional Services
Hunting, Training, Stud Services
Breeder Contact Info
Testimonials (2)
Submitted by: Dave Zemla on Feb 11, 2009
Carolyn,
I would like to extend a thank you for the outstanding job you have done in training my Black Lab "Deke". I could not have imagined how much fun it is having a trained retriever at my side in the duck blind. Many people I hunt with and who I have met at Hunt Tests are very impressed with the level of ability for such a young dog, which I can attribute directly to the training services you have provided. Thank You!!
This being my first dog and not knowing the first thing about retriever training, I was really apprehensive about my own ability as a rookie trainer/handler. One of my biggest concerns was what to do when my dog finished training with you. I really appreciate the extra time you spent identifying additional things I need to work on, and most importantly, teaching me how to handle my newly trained retriever. I truly believe that this has aided in his development toward a fully finished dog, as the concepts taught were not lost when my dog returned home with me. Knowing that your help is only a phone call away definitely takes some of the frustration away when an issue does arise.
I will gladly recommend your services to anyone who is thinking about retriever training.
Again Thanks for Your help and continued support!
Sincerely,
Dave Zemla & SHR Rainmakers Cajun Outlaw "Deke"
Canal Fulton, Ohio
Submitted by: Sandy Nelson on Feb 11, 2009
Dear Blazing Red Kennels,
Carolyn Elam's talent as a gundog trainer goes beyond knowing the "tricks of the trade". Carolyn has a clear understanding of the process it takes to bring a dog from one level of training to the next.
I have seen her work effectively with young dogs and dogs who were started at a later age. She has the ability to assess a dog effectively and generate strategies for bringing out the most in a variety of temperments and levels of natural talent, the whole time making sure the dog loves the work. Carolyn has had my dog in training on several occasions, and gave her the best of care. She treated my dog as if it were her own, and kept me alerted to each accomplishment.
Whether you are looking for a better hunting partner, or a tune up on obedience or a title and ribbon, Carolyn can bring out the best in your dog. She has successfully titled her own dogs and clients' dogs as well, and understands the skills required to run AKC, UKC and APLA hunt tests successfully. Carolyn is a dedicated, tireless trainer, and devotes the time and energy it takes to get the job done.
Sandy N, Williamston MI
Submit your testimonial