Mill Swamp Kennels - North Carolina Deutsch Drahthaar, German Wirehaired Pointer Breeders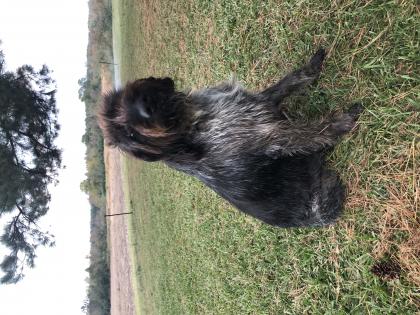 About Mill Swamp Kennels
We take great pride in our dogs and the puppies we have produced. They are strong hunters with great personalities. Very eager to learn. we use our dogs for both wing and fur hunting.
Hunting Dog Breeds Raised
Deutsch Drahthaar, German Wirehaired Pointer
Breeder Contact Info
Our Pedigrees
Testimonials (6)
Submitted by: Joe Novak on Sep 27, 2016
We picked up Gus in July. He is birdy, with a calm temperament in the house and overall great personality. At 4 months I shot the first quail he pointed, and he even retrieved it.
Submitted by: Kole on Jul 01, 2016
Mill Swamp Kennels by far exceeded my expectations. Mr. Snyder was very informative and really gave me a good understanding of the GWP breed. Throughout the early days of our puppy's life, Mr. Snyder kept me updated with pictures and emails that stated how Cooper was doing. I have been working with Cooper a lot and its unbelievable how smart the little guy is. He is fetching and pointing like a champ. He has gotten a pretty good grasp on the obedience commands and is really doing well with them. He also house broke pretty well too. I would suggest Mr. Snyder and Mill Swamp Kennels over and over. It was a real pleasure getting to know Mr. Snyder and his GWP's.
Submitted by: Chad on Jun 16, 2016
We got our puppy from Mr. Snyder in April. After having a GWP for 11 years, we wanted to stay with the breed. Mr. Snyder was very good with responding to emails and sharing the first weeks of Gru's life with pictures when he would sit still long enough. Gru is an excellent dog. He quickly responded to house breaking and basic commands. He is now swimming and retrieving on land and water. He is a very brilliant dog with a very loving demeanor. He is incredible with my 9 year old daughter who loves to hug him and pick him up. I would recommend Mill Swamp Kennels and Mr. Snyder if you are interested in a great dog.
Submitted by: Fred Hutto on Apr 18, 2016
Great Pup! Been working a lot of hours at work since we picked her up, but with the little bit of training I've had she's sharper than expected. Sitting on command and loves playing fetch. Two thumbs up
Submitted by: Chase on Apr 12, 2016
Two weeks I with our GWP and things have been great. She's been a smart and sweet puppy and Jim knows his dogs as good as any hunter or breeder out there. He was spot on in helping us pick the right pup and was helpful and communicative all the way!
Submitted by: Bekah Sidden on Mar 22, 2016
Our 14 month old pup from Mill Swamp Kennel is a pure joy. She has been an easy pup. She is full of energy and loves to interact with our young boys and other people. She recently passed a versatile dog hunting test which included field (wing), tracking, and water (NAVDHA NA Prize winner achieved with novice handler). She loves to hunt and work in the field and is good working alongside other dogs. Communicating with the kennel was simple and direct. The Snyder family is very personable and love their dogs. From a hunting standpoint: She's a nose down hunter and natural tracker. She is very trainable with minimal need for correction. Reacts well to positive reinforcement; she is shy to punishment. She is non-sharp and has a soft mouth. Physically agile and athletic. Never gun shy. Has strong natural prey drive. Transitions well from home to field. In general is a smart, fast learner, willing to please.
Submit your testimonial