Robingun Kennels - Nebraska Small Munsterlander Breeders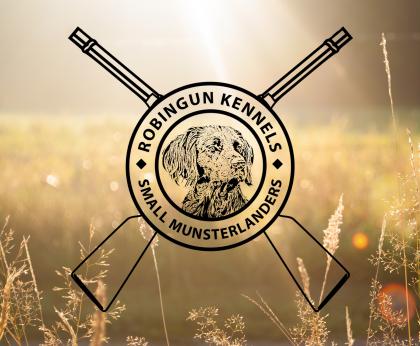 About Robingun Kennels
Robingun Kennels goal is to breed the best Small Munsterlanders possible that are true to the German FCI standard. All of our current dogs have a first or second generation line to European descendents. We have made sure that we have only the best breeding stock that are healthy, are good hunting companions and are good companions in the home. A dog's temperament is equally important to us as their hunting ability so we strive to produce truly versatile hunting dogs that can not only hunt but be a lifelong member of a family. All of our breeding stock has passed a minimum of two levels of testing in the NAVHDA system. We are committed to continuing a strict breeding practice using only the highest performing dogs in the U.S. and overseas.

In addition to providing a six year health guarantee on all of our puppies, we also provide each owner with a puppy training manual and we offer our advice and assistance in training the puppy. All of our puppies we whelp are evaluated at 8 weeks of age for their conformation and temperament and we do our best to match puppies with the prospective owner's hunting/training experience and their personal lifestyle. We want our puppies to go to the best homes possible so we ask prospective buyers to fill out a questionnaire before we agree to sell them a puppy. We only sell our puppies to hunting homes. We are members of the International NAVHDA and the Heartland NAVHDA Chapter. Our dogs have been approved for breeding by the SMCNA Breed Council.

All of our dogs that have tested have passed the North American Versatile Hunting Dog Association (NAVHDA) Natural Ability test which rates seven important inherited abilities: nose, search, tracking, pointing, water, desire and cooperation. All of our breeding stock has passed the the NAVHDA UPT or UT Utility Test which evaluates trained dogs in water and field, before and after the shot, as finished versatile hunting companions as well as many other specific tasks. Dogs who achieve a Prize I in Utility are eligible for The Invitational Test which is NAVHDA'S highest level of testing. VC Joker became the youngest SM to date to earn the title of Versatile Champion with a perfect score and we trained and tested Joker ourselves. Three of our adult dogs have qualified for the NAVHDA Invitational which is the highest level of testing.

In January of 2013 we imported our first dog from Germany, Zandor vom Fuchseck, who is one of our breeding males with a genetic line that is new in the U.S. He comes from one of the most respected breeders in Germany, Uta Schumann, who has been breeding Small Munsterlanders since 1973. Zandor passed the NAVHDA Natural Ability test and the Utility test before he was 20 months old. He is a UKC and IABCA Conformation Champion and in November of 2016 he won the IABCA Best of Show - Rare Breed over twelve other breeds.

In June of 2015 we imported a male puppy from the Czech Republic, Ukon Eben-Ezer, that passed two levels of NAVHDA testing before he was 16 months old. In 2016-17 we imported puppies from Germany, Sweden and Denmark to further diversify the gene pool in the U.S.

Our oldest female, Hunting Hills' Nixie Rae has the best PennHip score of the entire breed in the United States with 0.17 for both hips and she has earned a Prize I in the NAVHDA Utility test to qualify for the 2017 Invitational. Nixie has earned a NAVHDA and SMCNA Breeders Award for our "C" and "E" litters. Nixie is also a UKC and IABCA Conformation Champion and she has won the Best of Show - Veteran at two IABCA shows.

Wolfsburgs' Etta Juwel, our second female came to us from Tom McDonald, former SMCNA Breed Council Chair and the person who first imported the breed from Germany into the United States. Both litters she has whelped have earned NAVHDA and SMCNA Breeders Awards.

Robingun's Branka von der Hills, is out of Hunting Hills' Nixie Rae, and she passed the NA and UPT tests before she was 11 months old! She is an amazing dog in the field with an unbelievable duck search in the water. She earned a NAVHDA and SMCNA Breeders Award for our "F" Litter. We kept a female pup, Tevah, out of Branka/Zandor that passed the NAVHDA UPT and UT tests before she was 21 months old and she will whelp her first litter in the Spring of 2018.

We whelped our first litter in May of 2013 and all of the puppies from that litter that tested in the NAVHDA Natural Ability Test in 2014 earned a Prize 1 score. All puppies we have sold that have been evaluated in the NAVHDA Natural Ability tests have passed the test. Robingun Kennels has earned NAVHDA Breeders Awards for all of our eligible litters.

All of our adult dogs are hunted regularly during the upland hunting season. We also use our dogs to guide for our friends who hunt and at a local sporting club September through March.

We take a limited number of applications for each of our litters and we offer a six year health guarantee on all of our puppies we sell. We ask our puppy buyers to agree to test their puppy in the NAVHDA Natural Ability Test and we only sell our puppies to hunting homes. We will help anyone looking for a Small Munsterlander puppy by referring them to other SMCNA Breeders we endorse if we do not have any puppies available.

In addition to our website you can visit us on Facebook under Robingun Kennels.

Hunting Dog Breeds Raised
Small Munsterlander
Breeder Contact Info
Testimonials (19) You are viewing the 10 most recent - Click here for more reviews
Submitted by: Chris on Jul 13, 2017
Love this breed. They hunt and are great family pets. We picked Robingun Kennels over several breeders after meeting them and seeing their dogs in person. Amazing breeder with amazing dogs.
Submitted by: Brandon on Feb 02, 2017
Super great breeder with amazing dogs. Got our first Small Munsterlander from her and are planning on getting another one from Pam next year. Very helpful with training.She loves her dogs and so do we!
Submitted by: Dean J. on Nov 25, 2016
We discovered that there are many differences in SM breeders in the United States and Robingun Kennels is the only kennel that has consistently produced pups that have not had health or temperament issues. Very few SM breeders can show how they hunt all of their dogs like they do or bother to test their dogs beyond the bare minimum puppy test required for breeding. We have owned GSP's and labs and we love this breed and can't say enough about the honesty, passion and professionalism we encountered with Robingun Kennels
Submitted by: Julie Phillips on Oct 12, 2016
We recently got a 6 year old Munsterlander, Tyche that had come from Robingun Kennels. He is the an awesome dog and has fit in well with our German Shorthaired Pointers. My 12 year old son absolutely loves him, and goes everywhere with him. He is very obedient and my husband uses him for a guide dog and a retrieving dog on a hunting preserve. Tyche also received grand champion obedience at the county fair with my teenage daughter. We love Tyche, and I have quickly fallen in love with this breed, and hope to get another one someday. Pam also has been very helpful with us and is always willing to answer any questions we have. I would highly recommend Robingun Kennels.
Submitted by: Brandon on Apr 23, 2016
We got our first hunting dog from this kennel. We love the breed and Pam has helped us from day one with our pup. Our pup came to us at 9 weeks of age and he was introduced to gunfire, birds, water, etc. We highly recommend the breed as a great house pet and hunting dog and you will not find a better breeder.
Submitted by: Mike on Dec 30, 2015
We are so pleased with this breeder. We have owned numerous hunting dogs but this is our first Small Munterlander. Pam made sure she selected the perfect dog for us. She spends hours with her pups doing conformation and temperament testing as well as working with the pups on birds. Our pup slept through the night the first night we brought him home. Amazing dogs and amazing breeder. Highly recommend.
Submitted by: Mark on Dec 01, 2015
We love our Munsterlander pup we got from Pam and hunted him this Fall. Excellent breeder who spends a lot of time with the pups and is willing to answer questions before and after you get the pup.
Submitted by: Rob on Jul 10, 2015
Contact this breeder-she helped us locate a pup from a reputable person with the small munsterlander club. Totally trust this breeder. Lives for the breed and passion is obvious.
Submitted by: TM on May 25, 2015
We got a puppy from Robingun Kennels that is now two years old. Throughout the selection process and up through his training they were very helpful and knowledgeable. You won't find a better breeder or a better breed of dog than the Small Munsterlander. Thank you Pam and Mario Robinson.
Submitted by: Charlotte on Mar 10, 2015
Thank you Pam for all of the work you put into your puppies. Our little girl is amazing and has fit in great. We appreciate you taking the calls and answering our questions about training. You are an amazing breeder and we can't say enough good things about you or your dogs!
More Reviews for Robingun Kennels
Submit your testimonial