Von Weider Kennels - Michigan German Shorthaired Pointer Breeders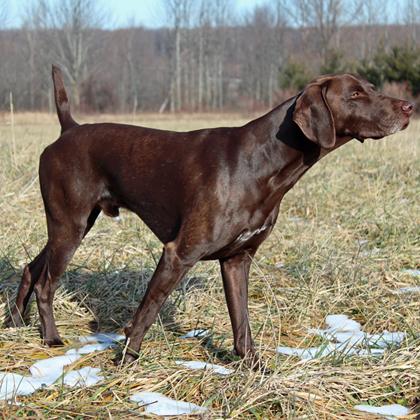 About Von Weider Kennels
Von Weider Kennels is dedicated to the breeding, training and hunting of the "Family Companion Gun Dog". A well disciplined family pet that you, the foot hunter, can take to the field with confidence. Your trained dog will perform it's hunting assignment with enthusiasm and skill, while demonstrating the excellent field manners that will make you proud.
Von Weider Kennels over the past 30 years has developed a Board-In Training Program that allows us to evaluate and tailor our program to the individual character and ability level of each animal enrolled at our kennel. Each trainee is accepted subject to a two week evaluation program after which we assess the maturity level and training objectives with the dog's owner.

Please check out our website at www.vonweiderkennels.com for complete information on the services and dogs/puppies available.

Hunting Dog Breeds Raised
German Shorthaired Pointer
Additional Services
Hunting, Training, Birds for sale
Breeder Contact Info
Testimonials (3)
Submitted by: Kara Hartmann and Jamie Laraway on Oct 18, 2013
My boyfriend and I were completely new to owning a bird dog and even new to upland bird hunting. Von Weider Kennels welcomed us to their facility and trained our pup Moose; along with us. They treat the dogs like they are their own. That is what drew us to Von Weider. We wanted an exceptional hunting dog as well as a family, in the house dog. After working with Moose we had the opportunity to buy one of Von Weider bred dog's, Bullet. The bloodline that he has is like no other. His mom and dad are both great hunting dogs and family dogs. Von Weider has became a special place for us and our dogs, I would definitely recommend it to anyone looking for a place to learn or find a new loved one.
Kara and Jamie.
Submitted by: brian kelm on Mar 27, 2010
Purchased our Heidi from George 11yrs ago. Trained her as well with George. Heidi has been the best dog we have ever owned. A true companion and amazing in the field. Obedience and desire to please so strong we often take it for granted.
Submitted by: Mike K. on Feb 04, 2010
I bought a puppy from Von Weider and had it trained there too. I could not be more happy with my dog, both as a hunter and as a family pet.
Ranger earned NSTRA Amateur Champion before the age of two.
Submit your testimonial