Shotgun Kennel - Michigan German Shorthaired Pointer Breeders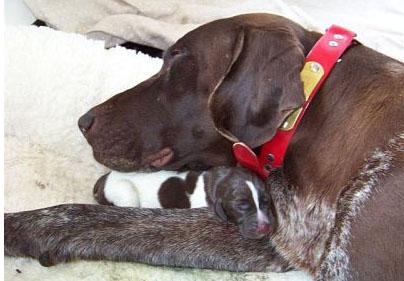 About Shotgun Kennel
We are a small family run kennel who raise and train German Shorthaired Pointers for foot hunters, who are looking for great versatile dogs for land and water. Our pups are raised in our home with plenty of care and affection. They show tons of drive in the field and are perfectly content to share the couch with you in the evening. We are planning a Spring breeding with Gracie and Rior as well as Riot and Tillie. Vist our web site or call to talk dogs. Shotgunkennel.com or check our photos on our Facebook page Shotgun Kennel, German Shorthaired Pointers. Riot is a gentleman in the home and has too many titles to expound upon here but please do see more about him at http://teamdogsunlimited.com/
We have been Training and raising German Shorthaired Pointers for over 15 years.If one of our pups is not right for you, I have made many contacts in the hunting dog world who believe in raising quality family gun dogs. I would be happy to recommend some of these breeders or give you tips on what to look for in a quality breeder.
Hunting Dog Breeds Raised
German Shorthaired Pointer
Additional Services
Training, Stud Services
Breeder Contact Info
Testimonials (2)
Submitted by: Andrew D. Zovishlack on Sep 23, 2014
Tim and Debbie Lintz run an excellent kennel and I would recommend them to anyone who is looking to board their dog or are looking for a GSP to add to their home. They both are very helpful and wonderful people to talk to and be around. Look no further you have found the breeders you want.
Submitted by: Curtis Noon on Dec 15, 2011
We found that their kennel was what we wanted. They raise the pups within the home, and not some box in a barn, as well as live with the parents. The dogs are a normal house dog, laying around, as if part of the family, content to watch a football game or a movie......until you get them outside! They are some of the best dogs I have seen. They have a switch that means "go", and when you strap that collar on, birds watch out! Then at the end of the day, with a quick wipe down, they will curl up in your lap and sleep. If you want a dog that is your friend, and not just a tool for hunting, then I highly recommend Shotgun Kennels!!
Submit your testimonial