Roos Farms - Michigan English Setter Breeders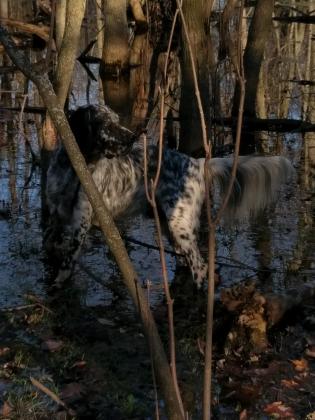 About Roos Farms
We are a small working farm in northern Oakland County, Michigan. We raise beef cattle, market hogs and fowl. We breed Australian Shepherds and English Setters. Our dogs are all working dogs, but also make great companion dogs.
Our successful breeding with our Ryman male Cider produced stylish pups with drive. I currently have one male Tri-color Belton and one female Orange Belton from our Josey, Ryman Style female, to our full Ryman male Cider. Whelped April 21, 2017
I also have one black and white female, and one orange / chestnut female from our Field Stock Liz and our Ryman male Cider. Whelped April 19, 2017
Please contact me for more information on the availability of our pups.
Stop by Roos Farms, you're always welcome.
Hunting Dog Breeds Raised
English Setter
Breeder Contact Info
Testimonials (1)
Submitted by: Cathy DeLong on May 30, 2017
We bought our English Setter, Molly, from Roos Farms. She is a joy to have. She is so sweet and loving, she gives hugs. We bought her for a house pet, however, she hunts in the backyard, having never been trained to hunt. She has a beautiful point and will hold it for a very long time. I have also seen her sneak up on a rabbit and the rabbit never saw her coming. If you want a pet or a hunter, contact Roos farms.
Submit your testimonial