Palimar Weimaraners - Michigan Weimaraner Breeders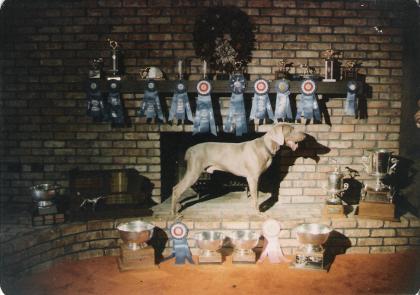 About Palimar Weimaraners
Palimar Weimaraners are nationally competitive field trial and hunting companions with a strong bloodline and outstanding instinct. We enjoy showcasing our dogs' talents in the field and in hunting. In addition, our puppies have gone on to become accomplished retrievers, conformation, obedience and agility companions. We breed rarely and sell only to quality homes, whether they be for hunting or not. We research our breedings extensively to ensure supreme hunting ability, health, temperament and versatility. All of our puppies are guaranteed to be free of genetic disorders because we know our line and stand behind our breeding. Our dogs have natural hunting instinct which we nourish from a young age and encourage in their new homes. Please visit our website www.palimarweims.com for more information and for puppy availability.
Hunting Dog Breeds Raised
Weimaraner
Additional Services
Training, Stud Services
Breeder Contact Info
Our Pedigrees
Testimonials (2)
Submitted by: Bart Karwath on Aug 08, 2011
We have had our Palimar Weimaraner for over two years and have nothing but high praise for the breeder and our dog. We have had two Weimaraners before this one, but this is our first Palimar Weimaraner. Our Palimar Wiemaraner is the smartest, most well adjusted and friendliest dog we have ever had. She has had no health issues. She is friendly with children and other dogs. We have young children and often have a yard full of kids. Although we do not hunt with our dog, her field instincts/nose are very keen. She points when birds are around and loves to track rabbits and deer! The folks at Palimar obviously know what they are doing when it comes to breeding top notch Weimaraners!
Submitted by: Jim Byrne on Aug 07, 2011
Spike is nearly 14-months old now, from the 2010 litter resulting from the mating of Colt and Libby. He has been everything I hoped for in a new Weimaraner puppy, healthy, happy, loving, and dedicated to finding and pointing birds in the field. I'm very much looking forward to his first hunting season this fall, and I believe he shares that excitement. The Lesters did a wonderful job of breeding this litter and giving these puppies a great start, and I can't thank them enough for all the support they've given me since I brought Spike home last September. I would absolutely recommend Palimar Kennels to anyone looking for a quality Weimaraner.
Jim Byrne
Submit your testimonial