Mailloux's Brittanys - Michigan American Brittany Breeders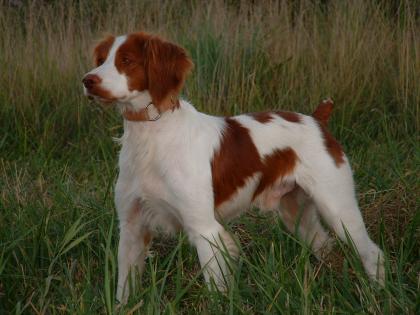 About Mailloux's Brittanys
The sire of the litter is a Dual Champion, which is the highest honor a Brittany can receive! A Dual Champion is a Show Champion and a Field Champion! I Breed the Best in Hunting Brittanys. I put three of the most proven blood lines together, NAC/DC/AFC Renegades Kansas Kid , DC/AFC Masked Shoshoini War Chief, and NC/FC/AFC Aux Arc's Mark. I have breed multiple Show Champions, Field Champions, and Dual Champions. References available upon request!
I breed for Quality NOT Quantity so I have 1 litter about ever year or 2 years. My pups were the 2003 and 2004 Brittany Iowa Juvenile dogs of the year. If you have any questions or you are interested e-mail me at brittanybirdhunter@hotmail.com and I will be happy to answer any question or discuss my litters I have or will be having. I am located in the U.P. of Michigan on the Wisconsin border. The picture above is a dog I bred, his name is DC Havapal's Billy Boy. I now am putting his bloodlines in my pups as well. I will continue to breed only the best Brittanys! I breed for QUALITY NOT QUANTITY. I only have a litter once every year or two so contact me if interested to see when I will be having my next litter and to get on my waiting list!
Hunting Dog Breeds Raised
American Brittany
Additional Services
Hunting, Training, Stud Services, Boarding
Breeder Contact Info
Testimonials (2)
Submitted by: Brian Foltz on Dec 23, 2011
Hey bird hunters. I got my last Brit from Phil 10 years ago.I want to get a pup this spring and I'm contacting him again.Enough said. My current orange and white dog,Whistle, is sweet in the house but gets serious in the field. I've shot a boatload of So. Dak. pheasants over her. Yes she water retrieves too. She adjusts her range dependent on the cover always staying just in sight and checking back.
Smart.Taught her to retrieve w/a check cord in half an hour.Biddable.
As long as they know you are the alpha dog, training can be nothing more than common sense.But this is vital.As pups, hold them down for half an hour at a time no matter how hard they try to escape.Dont let them budge.Only let them up when they are not struggling.Growl at them when they are trying to escape.They understand this very well.
Looking forward to hearing from you Phil,
Fellow Hunter,Brian
Submitted by: Tyler on May 30, 2009
My pup is doing GREAT! I've got him to the point where he does not require a leash. He is an excellent retriever and his point is getting stronger. I've never had a dog that really pointed just flushed but I'm getting excited just watching him point. I brought him out onto some private land and he is a real strong pointer so far and he is real patient. I'm hoping to bring him to a game farm and letting him loose on some pheasants. We still remain impressed. Thanks, Tyler
Submit your testimonial