KDT's GSPs - Michigan German Shorthaired Pointer Breeders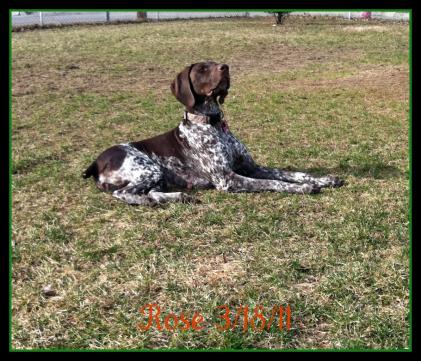 About KDT's GSPs
KDT's GSP's breeds for versatility (Show, Hunt, Temperment, Dock diving & Companionship). I breed once every couple of yrs. My dogs live in my home with me, my kids & my grand kids. They're all health guarenteed, micro-chipped & up to date on ALL vacs. All my puppies/ dogs come with a life time of commitment from me as your breeder. I except paypal.
Hunting Dog Breeds Raised
German Shorthaired Pointer
Additional Services
Training, Stud Services
Breeder Contact Info
Our Pedigrees
Testimonials (3)
Submitted by: Aimee on Apr 13, 2011
Last year we met this breeder and her dogs at a show. My daughter was immediately impressed with the dogs and when she found out there was a litter on the way she wanted one.From the day we went to meet the puppies we knew she would be getting a good dog. All the puppies where in the house and treated like family. She finally picked Clay, or should say Clay picked us. From day one he has been an amazing dog both in and out of the show ring. At only 14 months old he is now a Certified Therapy Dog, has his Canine Good Neighbor and has started to train as a service dog. Clay also is learning how to dock dive, agility and many many more sports. Although we don't hunt, Clay does enjoy pointing out birds when ever he gets a chance to!
Rebecca is a breeder who goes far out of her way to make sure her puppies are treated well for their entire lifetime. She stands behind her dogs 200%. We look forward to keeping in touch and even visiting like we have for the past year for Clay's entire life.
Submitted by: Stephanie Jones on Mar 29, 2011
As a fellow breeder I can say with complete confidence that KDT's GSPs is a honest and loyal breeder. Her dogs and puppies are her family, they are well kept in her home, well cared for and extremely loved. Her puppies get the one on on care that is crucial for there development. When you buy a puppy form her you can expect to get a well rounded GSP and the guidance of a respected breeder through out your puppies life.
Submitted by: Mark Annen on Mar 29, 2011
I have one of KDT's GSPs and she is as Beautiful as she is smart !!! I can see all the time and compassion that is put into raising there Pups ,
as it shows when they are adult's. All around GREAT GSP"s !!!!!!
Submit your testimonial