Greypointe Kennels - Kansas English Pointer Breeders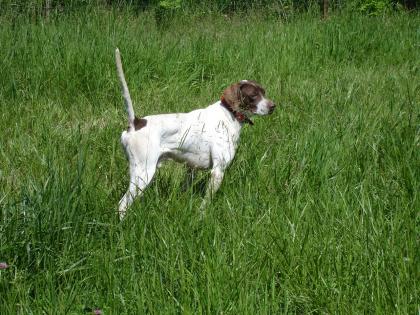 About Greypointe Kennels
Greypointe Kennels established 20 years ago is dedicated to producing and trialing class walking and horseback shooting dogs in the highest competition. Our English Pointer line has been nutured thru selective breeding for four generations with wins in championships and futurities to document our success. Every dog at Greypointe proves itself hunting wild birds as well with quail, prairie chickens, Huns and pheasants on the menu. This keeps them sharp for trials as well as validates our breeding program as nothing is better than finding wild birds in their native cover to prove a dogs mettle. We travel to the Dakotas, Iowa, Western Kansas and Texas to expose our dogs along with the wild birds available locally where we train.
Greypointe Kennels is home to AFTCA National Walking Shooting Dog Champion Greypointe Espada, multiple-Classic winner Greypointe Fandango (pictured), Futurity and Shooting Dog winner Greypointe Gladiador along with shooting dog winners, Grepointe Flamenco, Greypointe Gloriosa and Rock Candy Mountain. Past winners include former Runner-Up AFTCA National WSD Champion and 25 time winner Greypointe Comanchero and 40 time winner and Region 17 Champion Greypointe Cannonero who was also the Royal Canin National Walking Shooting Dog of the Year in 2002-03.
We breed to produce classy, bird finding machines that want to please you in the field. If you are interested in class shooting dogs, we breed sparingly and have puppies and started dogs available at times.
Hunting Dog Breeds Raised
English Pointer
Breeder Contact Info
Testimonials (0)