Kojac Kennels - Iowa German Shorthaired Pointer Breeders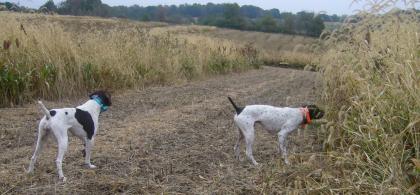 About Kojac Kennels
Pups for sale! Will be 7 weeks old on the 29th of January. Unbeatable pedigree on both sides. 5 males & 2 females, males $600 and females $800. 50% down to hold.
Hunting Dog Breeds Raised
German Shorthaired Pointer
Additional Services
Training, Stud Services
Breeder Contact Info
Testimonials (1)
Submitted by: melody samuelson on Mar 25, 2016
Twelve years ago I bought the runt of the litter from Kojak kennels. Rosie and K-Man were the sire and dam. Jake is the toughest, fastest, most fearless GSP you will ever have the pleasure hunting. Totally fearless of water at 6 months he saw some ducks, jumped in and swam for 45 minutes. I thought for sure he would drown. He does to this day. No matter how cold the water. When the club thinks all the birds have been found-he cleans up the field. If you want a hunting dog- You go to Kojak Kennels!
Submit your testimonial